Have you signed up for the giveaway yet? If not, go to
this post
and leave a comment. I'll do the drawing on Friday, 12/19/08.
OK, on to today's fun!
We had some things we needed to return to a couple stores, so Little Bit and I planned a trip to town today. We had a lot of fun, and got some great deals.
We spent $3.06 at Target: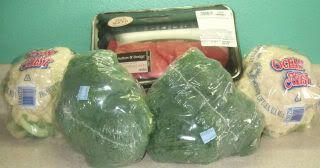 Broccoli and cauliflower are on sale for $1.33 plus
Target has coupons online
for $1 off Broccoli or Cauliflower. The steak pack was $3.74, but Target's online coupon for $2 off meant it was just $1.74. Now, I just need to think of a few (more) ways to use up broccoli and cauliflower! I see
Beef Broccoli
in our future!
At King Sooper, it was $15.17...except it wasn't! See, Hubby and I each got a $50 gift card to King Sooper for opening accounts with TCF bank...so this was all free! Still, it was all on sale too, plus I used $4 in coupons. Little Bit got a free balloon, and we spent a penny to ride the mechanical horse. Not bad!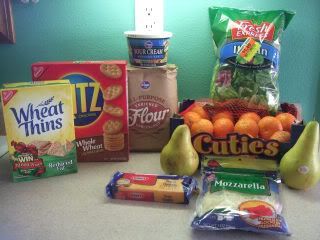 Finally, at Walgreen's we spent $2.23 for all this...but again, it was free! Hubby transferred a prescription and got a $25 Walgreen's gift card. I used $10.87 in coupons (Walgreens and Manufacturer ones) to get it down to $2.23, then used the gift card for the rest. More
low-cost coffee drinks
- yay!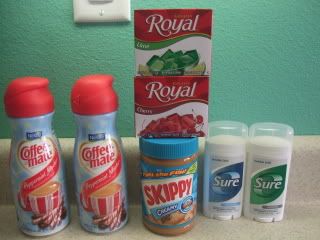 Before I forget - we stopped in Goodwill too - I have been watching for a larger pepper mill, and I found a set today for 49 cents! This lantern uses tealights. I have a ton of them, so this would be safer/handy in emergencies.
This was just too pretty. Brand new, still had tags, fits me well, and I love the colors! $4.99 - not bad!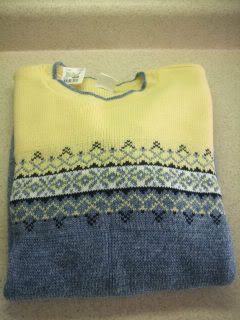 Little Bit fell in love with this puppy hat. It's hard to see in the photo, but it has floppy brown ears! I have to do a story time at the library in a few weeks - I hope she'll let me borrow it!