I have a cookbook I got at a library sale for fifty cents. It's from the Kauai Extension Homemakers Council...and it's a goldmine of amazing recipes. Since hubby is from Hawaii, a lot of these are 'home cookin' for him. This cookbook has made it a little easier for me to impress my mother in law once in a while!
We used to go to this place in Kaneohe for Beef Broccoli and Cake Noodle. Cake noodle is a wheat noodle that is somehow pressed into a 'cake' and cut into squares. I have NO CLUE what noodle to use, or how to do this. The noodles I make at home are not the same but they are inexpensive, easy, and hubby likes them. Good enough for me!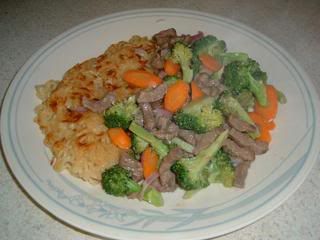 You can SO do this! It really isn't hard at all, the recipe has some flexibility, it's fast, it's yummy, and if you watch sales, it's really affordable! Not the cheapest meal ever, but seriously good and not seriously expensive!
Here's what you need: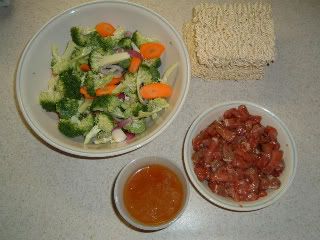 For the noodles:
2 pks cheap ramen noodles, cooked and drained(do not use the 'flavor packet', just plain water)
a little oil
Cook the noodles, drain them well. Heat a pan(medium-high heat), add a little oil, then the noodles. Leave them alone as much as possible, so they 'set'. Also, if you fuss with them a lot, they'll stick. So just work on the beef part and the broccoli part while the noodles cook. When they are nicely browned (but not burned), flip them!
Sometimes they flip in one big 'pancake', sometimes not. They taste good either way. When they are crispy to your liking, remove them from the pan and put them on the serving plates. (break or cut it into pieces) They take a while to cook (if the flame is too hot they'll burn), so while they cook you can work on:
Beef Broccoli
1 lb. broccoli, cut in bite size pieces and lightly steamed (You can add other vegetables too - I do all the time!) I barely steam them - more like 'hot and raw'!!
BEEF
Mix the following in a bowl while the broccoli is steaming:
1/2 lb. beef cut into small strips (you can also use pork or chicken)
1t. soy sauce
1/2 t. sugar
1/2 t. corn starch
1/4 t. salt
about 1 inch of fresh ginger, shredded.
SAUCE
Mix the following in another (little) bowl:
1 tsp. soy sauce
1 tsp. corn starch
1/2 tsp. sugar
1/4 c. water
a little dark sesame oil (probably about a teaspoon - this is something I added to the recipe, but I never measure it)
(You saw the meat mixed with the seasonings, and the little bowl of 'sauce' up there, right? Sorry I didn't take more pictures, but really, I bet you're doing just fine without them.)
Pan fry beef in 1 T. oil for about 5 minutes (for this stuff, you'll use pretty high heat - just not for very long!). Add steamed broccoli an stir-fry 1-2 minutes. This part is 'kinda spectacular'...there is some sizzling and excitement. Just warning you so won't be scared! Add sauce mixture, put lid on pan, count to ten (slowly), then stir.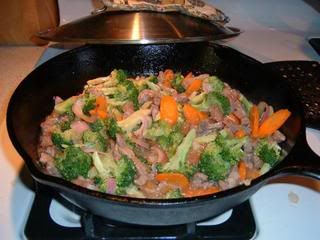 When sauce is boiling and clear, turn off heat, put Beef-Broccoli mixture over noodles and serve. Yummy!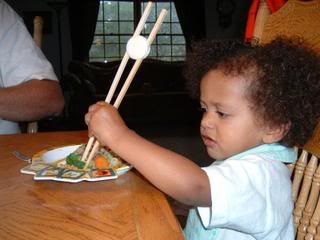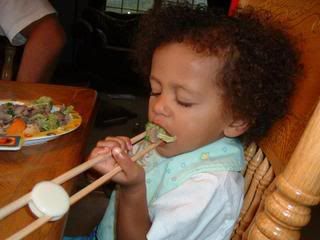 I buy london broil or chuck roast (boneless) when they go on sale for $1.59 a pound (2 weeks ago, it was 1.49 for chuck roast). I cut it into the strips and freeze it in 1/3 lb. packages(we kinda felt like a half pound of meat was too much), so I can thaw one any time we want to have this. We wait until broccoli is on sale for $1 a pound (at least once a month I see that price). The ramen noodles are about 12 cents a package if you don't wait for a sale (I wait for a sale), and the other stuff, all totaled, probably costs what, a quarter? Not that much, but let's say a quarter anyway, just in case you don't have an Asian store where you can get fresh ginger really cheap.
So, if you watch the sales (if you are not in the US, I realize that food prices may be very different where you live) you can feed three to four people for $2 - $2.50. Not bad!
I know someone will want to know - we got the 'automatic chopsticks' at Shirokiya's in Ala Moana - Honolulu.
If you try this dish, I hope you enjoy it as much as we do! If you want to lower the fat, serve the beef broccoli over (whole wheat if you've got it) angel hair, or brown rice. I actually prefer the brown rice or angel hair, so I usually make one packet of the noodles (for 'them') and use leftover rice or noodles for me.
Again - enjoy!