You never know who is reading your blog, or at least searching keywords that bring your blog to the attention of a marketing department! A couple weeks ago I got a note from a very nice person at Birds Eye, asking me to try a product, then share with y'all.
A few days later, I was in the store, free coupon in hand, shopping for Birds Eye Steamfresh Meals for Two. We chose the Asian Style Chicken Vegetable Medley.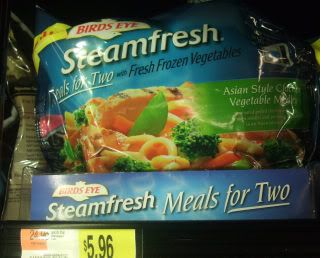 I have to admit, this is easy to do. You put the bag in the microwave (face down)
for 10-13 minutes (depending on the strength of your microwave). When the microwave is done, wait two more minutes, then open the bag, pour out the food, serve and eat. If you already have it in your freezer, it's easier (and very likely less costly) than going through a drive-through or picking up take-out.
We thought the food was pretty good for frozen. It had a little kick to it, and the vegetables came out properly cooked. The chicken was tender. The noodles were maybe a little on the doughy side, but not awful. There was a lot of sauce, and we thought that if we were instant rice people, some of that would have been a nice addition. (We are brown rice people, so brown rice cooking time was prohibitive.)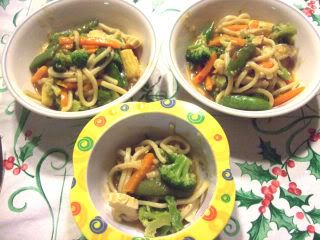 As far as "Meals for Two" is concerned, we each had a good size bowl of food. In fact, all three of us ate this for dinner. When I checked the nutrition information, there are two servings in the bag, 290 calories each, 6g. fat each. Awesome if you're watching calories and/or trying to lose a few, but on the low side for a high-metabolism husband. You have that 12-15 minutes while the food is cooking/resting to whip up a salad, slice some fruit, maybe nibble on a veggie tray if you need additional calories.
$5.96 for a single supper for us is on the high side, but then again, we are frugal with a capital FRUGAL. For a two-income family with busy schedules, this may be a more cost-effective alternative to takeout, and healthier than fast food. I would rank it as pretty good, but possibly not filling enough for some family members. The price is out of my self-imposed range, but probably not out of line. I'll be honest: I thought it tasted good, but I cook...so I probably won't buy it simply because I can make something like this for less money. If you don't cook, or don't have time, this may be a good product for you.
Here's the thing. You won't know if you like it or not until you try it. The good news? The nice people at Birds Eye sent me two more coupons to give away! Each coupon is good for one free Birds Eye Steamfresh Meals For Two dinner. If you leave a comment on this post, you are entered! I'm going to leave this open until Friday, since I'm such a little fish in the big blog pond, but I'll announce winners on Friday.
So, the official rules for this drawing - enter (only once please) between right now and whatever time I log on Friday. Just leave a comment on this post, preferably with a contact email. There are two coupons, so two people will win. If you are not comfy leaving a contact email in your comment, then please check back to see if you've won! I'm going to want to mail them out Monday, so be sure and follow up.
By the way, if you go
here
, Birds Eye is doing a big promotion. Enter and you have two more chances to win. They are giving away 100 free meals per day, plus one person will win a free meal every day for the next year. (If you win that many, you can let all of us know about the other flavors, K?)
Good luck! Don't forget to leave a comment! :)