OK, first off, I'm not a big coffee drinker. Actually, I'm probably not even a little coffee drinker, but if there's enough milk, sugar, hot cocoa, etc., I like a little coffee in it.
Not too long ago, I had a bit of sticker shock in the supermarket. A four-pack of milky-sugary drinks with coffee was up above $6. That's a lot of coin for a little coffee. Besides, I have coffee, coffee stuff and glass bottles at home. Thus begins the experiment, and the discovery that it's pretty easy to make tasty 'barely coffee' drinks at home.
I just gathered a few things: coffee maker (and coffee, and water, and a filter), some creamer that I got super cheap on sale with a coupon, milk, bottles, lids.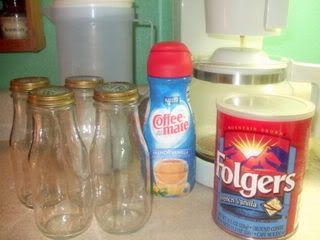 Once the coffee maker turns the water into coffee, I put about this much in each jar.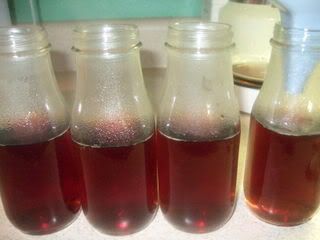 Then, add some creamer, until they are this full.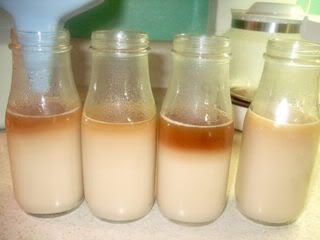 Then, milk. Don't fill them full - save some space to adjust sweetness, milky-ness, etc.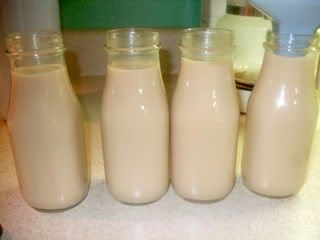 Take a little taste, and once the flavor is just how you like it, fill the bottles the rest of the way, cap them and you're set! Pop them in the fridge, and you just saved several dollars.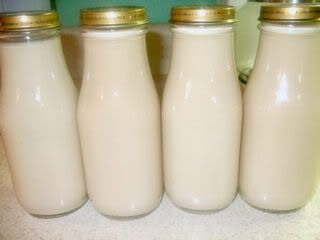 One thing I've noticed is that some of the flavors are a lot stronger than others, so you'll have to experiment a little with amounts. Even at that, you'd have a hard time getting $1.50 worth of ingredients in there. Give it a try, and see what you come up with!
Edited to add:
I just wanted to say that you don't have to make the coffee drinks in the individual bottles. It's actually quite a lot easier to make one batch in a pitcher, then use a funnel to pour it into portable containers. In fact, if you're just drinking it at home, you may want to leave it in the pitcher. Just wanted to mention that! :)