I've started to keep a running list week to week, to help me realize all the ways we save on day-to-day expenses. Here's this week's list - yikes, it's long! Let me also say - we got a LOT of free stuff this week. It's not typical for us to score so many freebies, but hey, some weeks are just good! :)

We hired a good friend to hang all this drywall, but guess who's going to tape it?
I completed two surveys and earned $6. I also learned this past week that I will be scoring essays for Pearson again this year. It is temporary and short term, but also very flexible and done from home, so I am excited that I've gotten in again. I believe this is my fourth year.
I got an email from Kmart saying that they were giving me $3 worth of reward points, but they were only good Fri-Sun (this past weekend). I found a big bottle of Snuggle fabric softener for 3.29. Apparently I had a few points on my card already, because it ended up being free. Pretty excited about that one, because Husband is very patient with me and my homemade adventures....but he really prefers Snuggle. :) And then, you know what? I just got another email from Kmart about another $3 credit for the coming weekend. I'm thinking soap for the shower this time. :)
On the way to Kmart, Daughter and I stopped at Panera. I had filled out information online for a rewards card, so I took the printout in and got the actual card. It came with a free 'treat' loaded onto it. I let daughter pick out any treat she wanted, just for her. She chose a pastry with a cheese filling and a cherry topping. She said it was wonderful! I did not get anything (which probably makes me cheap) but I wasn't hungry and really didn't need any of the things that were tempting me.
We also went to Goodwill while we were in town. We got Tallulah a (faux) fur lined wicker kitty bed, Daughter got a book about cats with her money from Grandma and Grandpa, I got them a jigsaw puzzle (we buy puzzles at Goodwill and mail them to where they live) and myself one of those cast iron cookbook holders. I've wanted one forever, and I do a lot of scratch cooking. I've used it already and I am really enjoying it. I can also see other applications, like using it to hold a book if I'm reading and doing something else at the same time - I'll let you know! Everything we purchased was in new condition, and after looking some items up, about 90% less than retail.
I cooked a pound of dry black beans in the crock pot. It was enough to make nine black bean burgers, plus two containers of beans for future use. I put six of the burgers in the freezer (that's two meals for our family), froze one container of the black beans and used the other this week in
bean, corn and tomato salad
. That's a lot of food from a pound of beans and a few other add-ins.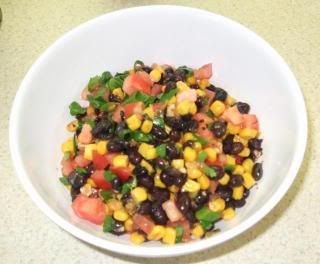 I planned a menu primarily from the pantry. I'm allowing $20 a week for milk, produce, and items to round out meals, but we are using plenty from the pantry, which is good.
The menu is here
if you're curious.
On Sunday when the ad changed, Walgreens had tuna for .49 a can. I was able to get some free, because I have a $25 gift card we got from them when we transferred a prescription. While I was there, I realized that they had Snicker and Milky Way 'eggs' (for Easter) 2/$1. I had coupons for $1/2, which made those free. They are stashed for Easter and will be the main 'treat' in the basket.
We got a free pizza at Papa John's this week, from the superbowl coin toss game. That was our Sunday dinner.
I got a couple of free samples in the mail. I use some at home and others to help round out the blessing bags for the ministry at church.
I'm listening to a book on CD when I'm in the car - I got it at the library along with books, movies and other media.
On the cold days we dressed warmly and used wood to heat the house. I dried clothes on drying racks to save electricity.
Husband changed the oil in our car. Also, he continues to drive it to work (it gets better mileage) and daughter and I are using the truck for our closer-to-home jaunts. We expect this to save us at least $25 a month, possibly more.
We took advantage of a deal on Living Social to get a Sam's Club Membership. We've never had one before, because with just three people, there isn't as much opportunity to buy in bulk. With this deal, it was $45 for the card, but we got a $20 Sam's gift card plus almost $20 in food vouchers. Sweet. Even sweeter, I
pestered
encouraged my friends to join, and I had enough friends sign up with my link that I got our deal for free!
I ordered sheetrock for Husband's garage workshop. They were busy when I called, and they forgot to call back. I called in the afternoon, and as a form of apology, they took $25 off our order. I wasn't even bothered - they initiated the discount. :)
I swam for free two times at the pool, while Daughter was in her swim lessons.
I recieved a free product prototype to try. I cannot tell you what it is. I cannot share it with anyone outside immediate family. It's all very 'secret spy', don'tcha know. heh.
I played a game on L'Oreal's Facebook page and won free hair color. They are mailing me a coupon. I'll get to pick my color in-store. Maybe green? Fuscia? Or maybe something that's pretty much the same color my hair already is. Yeah...probably that one. :)
Our Friday town trip for this week ended up happening on Wednesday, because that made more sense this time around. We took in recycling - free, took 10 empty ink cartridges to Staples for recycling ($20 store credit), got 4 jars of spaghetti sauce at Target for .25 each and got Altoids for free w/a coupon. I took a box of books to Goodwill - they gave me a soda and Daughter a tootsie pop to thank us for the donation.
When we completed our errands and he got off work, we met Husband at Chili's and had supper there. He and I got one of those $20 deals - an appetizer and two entrees. They were all full size - it was
plenty
of food. We used a 'kids eat free' coupon to get Daughter her cheese pizza, fresh pineapple and chocolate milk. Since we had a $10 Chilis gift card someone gave us for Christmas, the meal was really affordable - just $10, tax and tip.
I used approximately $25 in coupons this week. Of the $20 for groceries and household items, I still have about $4.25. This is good, because really, it's not $20 a week - it's $80 a month, and a little spare is good for those spare days!
Did you have a good week? What frugal things did you do?
Shared on: