Lunch is our main meal, mostly due to work schedules. Today we had tostadas and bean/corn/tomato salad. This salad is low-cost, and it's so tasty, so flexible, so pretty, and super simple. Here are
most
of the ingredients: (I forgot to include the oil and the lime juice - sorry.) You need some black beans, a tomato (or cherry tomatoes), corn (this was some leftover corn that had peppers in it, but plain is fine, so is frozen or fresh off the cob), garlic, green onion tops (or some chopped onion), cilantro and smoky chipotle tabasco sauce. Oh yeah, and oil, and lime juice.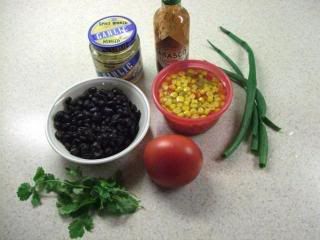 All you have to do is heat a skillet, add a bit of oil, and put in the drained corn and the garlic. Let that sizzle until it starts to get a little browned here and there.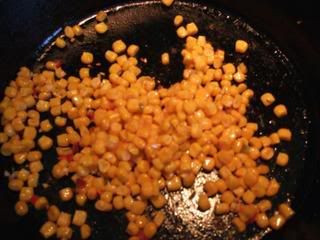 While the corn is sizzling, rinse and drain the beans. Then chop the tomato, the cilantro and the green onion tops. Put them all together in a bowl. Once the corn is ready, add it to the bowl. Season to taste with a bit of salt, the smoky tabasco, and the lime juice.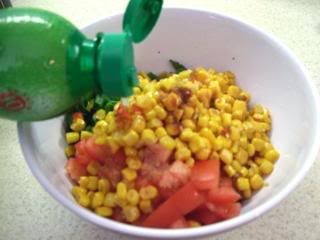 Stir. Taste. Adjust seasonings as needed. There you go! Great with chicken..or quinoa...or over rice...or just grab a fork and eat it all. YUMMY!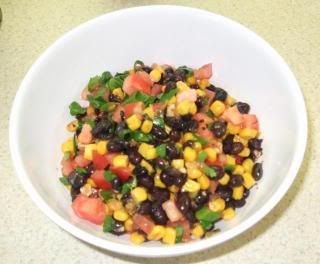 My cousin has made this with pineapple...I've added cayenne to it...I've seen it made with red onions and white beans - really, use what you love/what you have on hand, and I hope you like it as much as we do!