Thanks to Laura at 'I'm an Organizing Junkie' for hosting
Menu Plan Mondays
!
We did fairly well with last week's menu plan. We had more chicken cooked than we needed for the meals we had planned, so we added chicken onion quesedillas to the mix. Yum!
Here's the plan for this week:
Breakfasts
(some will repeat)
Cold Cereal, Fruit, Milk
Vanilla Yogurt,
Peanut Butter Granola
, Fruit, Water
Breakfast Burritos and Clementines, Milk
Peanut Butter Toast, Oranges or Applesauce, Milk
Oatmeal with Applesauce, Cinnamon and Raisins, Milk
Bran Muffins, Applesauce, Milk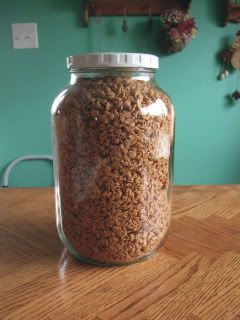 Click the link above for our granola recipe.
Lunches
(our main meal)
M: Cesar Salad, Grilled Steak, Baked Potatoes, Seared Mushrooms, Pineapple-Lime Sorbet
T: Barbecued 'Pulled Turkey' on Homemade Buns w/Hot Sauce and Pickles, Cole Slaw, Oranges
W: Chili over Brown Rice, Peaches
R: Sliced Ham, Macaroni and Cheese, Peas and Carrots, Pears
F: Hash Brown Skillet Omelet, Biscuits w/Butter and Jam, Oranges
S: Chicken & Noodles w/Carrots and Celery, Cheese and Crackers, Apple Wedges
S: Chili & Cheese on Hot Dogs or Baked Potatoes, Oranges
There's a rumor going around that we might get pizza one day instead of the planned meal. If so, things will shift accordingly. :)
Suppers
are generally leftovers from previous days, PBJ and carrots, that sort of thing.
Snacks
:
Popcorn & Raisins
Apple Wedges & Peanut Butter
Chips & Salsa
Yogurt & Granola
Cheese & Crackers
Muffins & Applesauce
So hey, how about a little giveaway? I have a book of recipes that I really like - it's called Once A Month Cooking. This is an older book. I got it used...and then, in a moment of forgetfulness at some point, I got another copy of it...also used...so I want to share it with one of y'all. It's really useful if you are trying to save time and money in the kitchen. Also, to brighten up your kitchen a wee bit, I'll include a crocheted dishcloth, hand-made by me!
This little giveaway is open to anyone in North America who reads my little blog. Please, one entry per person. To enter, simply reply to this post by answering this question:
What is your favorite comfort food? Feel free to go into detail!
I'll shut the comments down Thursday night (1/14/10) and announce the winner on Friday the 15th. If you have a blog, please let your readers know so they can enter too!
Good luck, and thanks for playing!