I got this peanut butter granola recipe from my friend
Melissa
a long time ago. I hope you like it as much as we do!
Not only is this easy to make, it's tasty, and it makes a lot. In fact, if you don't have two of those 11x17 'jelly roll' type pans, you might just want to make a half recipe at a time (and use 13x9 cake pans).
Here's what you need: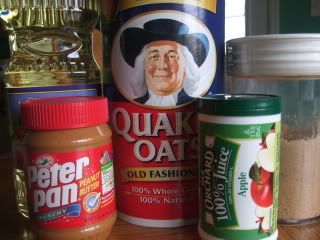 Didn't the nice Quaker on the oat box used to wear glasses? I wonder if he got Lasik? When I was a kid, I thought that was Ben Franklin. And I always thought that oatmeal must have been really important to early America, for him to get his picture on money. (Can you believe I was actually a good student?)
Put 10 cups of oats in a large container. This storage container is the size of a 13x9 cake pan.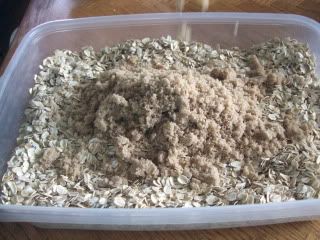 Add a cup of brown sugar, and mix the two together, then set aside.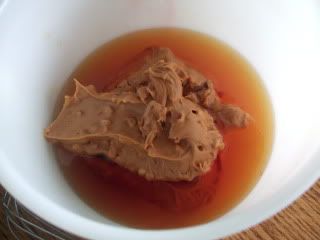 Next, combine the apple juice concentrate (the whole container) and 1 1/2 cups of chunky peanut butter. It will seem like it's not going to work, then all of a sudden, it will. It might work better to add just part of the juice to the peanut butter - you could always try that.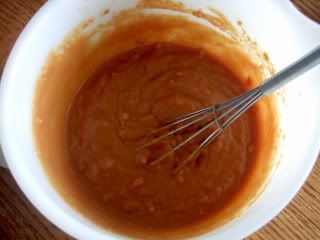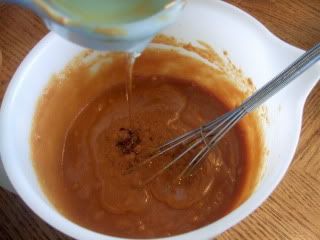 Add a half cup of oil and whisk again. This will emulsify fairly quickly.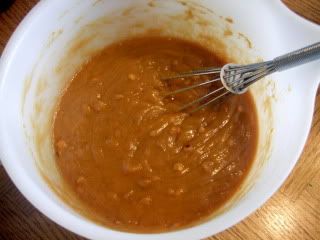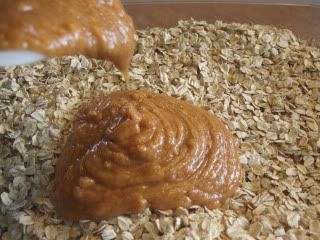 Pour the peanut butter/juice/oil mixture over the oat/sugar mixture.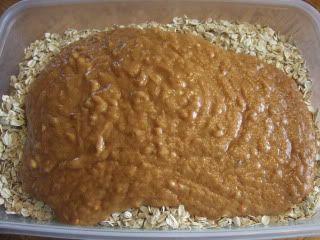 Gently fold and stir until they are incorporated.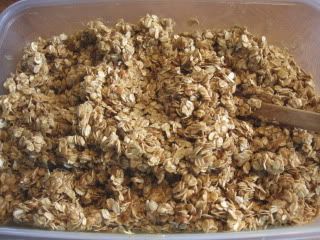 Experience tells me this is too 'wet'. The recipe calls for instant oats, and all I use is old-fashioned oats. I added two more cups of oats (one cup at a time) until it was 'right'.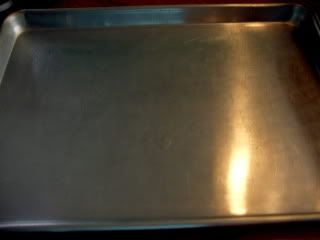 You need two of these pans. Divide the mixture evenly between them, spreading it out. Don't worry that it's a bit clumpy. As the granola bakes/dries in the oven, it becomes more separate.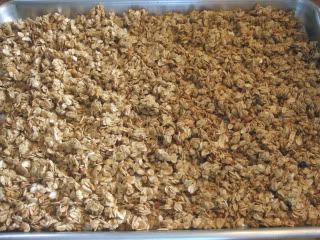 Hm...it's gotten mighty quiet in here. Little Bit, what are you doing? Oh.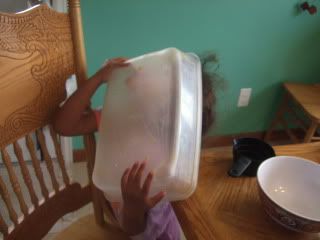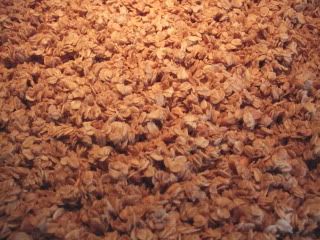 Bake at 250 degrees. Every 30 minutes, flip the granola, and switch the top tray to the bottom, and the bottom tray to the top.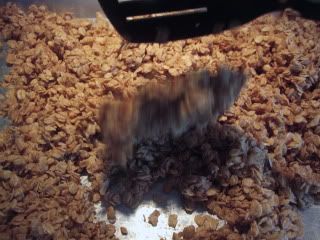 The recipe says this takes 1 to 1 1/2 hours, but it always takes 2 hours at our house. You're only checking on it every half hour, so you have plenty of time to clean up, put things away, clean the peanut butter/juice/oil mixture out of your daughter's hair...you know, stuff like that.
Once the granola has been in the oven a couple hours, take it out and let it cool on the pans. It will get crunchier as it cools. Once it's cool, put it in an airtight container. This one is a 1 gallon glass jar.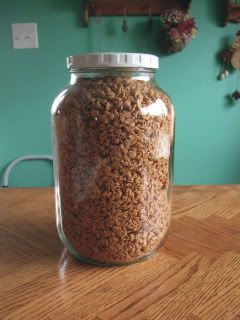 Yum!
The recipe, all at once:
Peanut Butter Granola
10 c. instant rolled oats (or 12 c. old fashioned oats)
1 c. brown sugar
1 1/2 c. crunchy peanut butter
1 12oz. can frozen apple juice concentrate
1/2 c oil
Preheat oven to 250.
Combine oats and brown sugar in a large container or bowl - stir to mix.
Combine peanut butter, apple juice and oil, mixing thoroughly with a whisk or hand mixer.
Pour peanut butter/juice/oil mixture over oat/sugar mixture, stir to combine. Divide mixture between two large jelly roll pans - the ones with sides - and bake in the oven for 1.5 - 2 hours. Turn the mixture with a spatula every 30 minutes.
Cool the granola in the pans, then transfer to an airtight container for storage. Makes about 1 gallon.