I have been spending a lot of time on a big project these days. More on that soon.
Yesterday, Little Bit and I did a lot of food prep and cooking. I like doing this now and then, because it makes for lots of easy meals in the coming days.
First, we made some homemade salsa.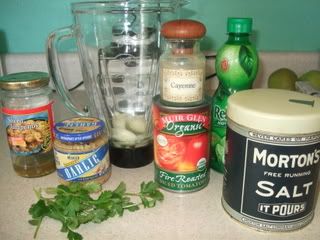 My sous-chef removed the cilantro leaves from the stems. She is a great helper!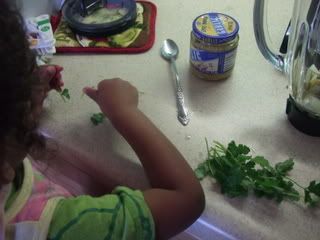 We don't have a hard and fast recipe - we use a can of diced tomatoes (leave in the juice!) and we add the things we like in salsa: garlic, cilantro, raw onion, lime juice, jalapeno to taste, some salt and a bit of cayenne. Just chuck it all in the blender.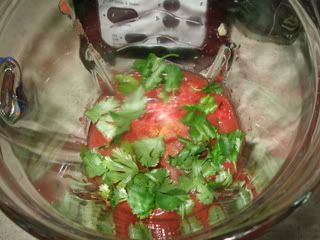 Our blender has a 'food grinder' button, and reversing blades (I love my blender!) and it comes out just right!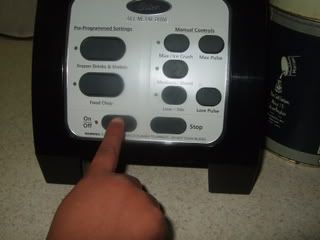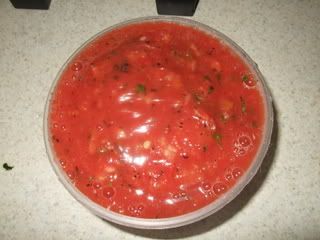 It tastes really fresh, and it's so easy to adjust it to your liking!
After we rinsed the blender REALLY WELL, we used it to blend the wet ingredients for these
Whole-Wheat Banana Muffins
.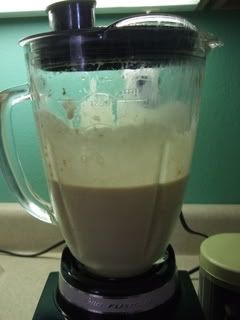 I read a few people's comment that these are their favorite muffins, ever. Well, we made them in a pan instead of muffin cups, but truly, this is delicious! I did made a different topping for ours - I mixed 1/2 c. chopped walnuts, 1/4 c. brown sugar, and 'a big spoonful' of wheat germ. Yum.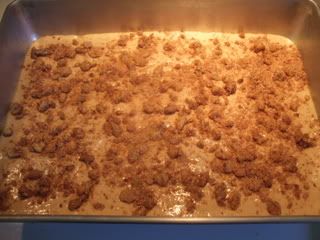 Next we put some pumpkin, spices, sugar and such in the blender, and made a
pumpkin custard
. It can share the oven with the 'muffin cake' we just made!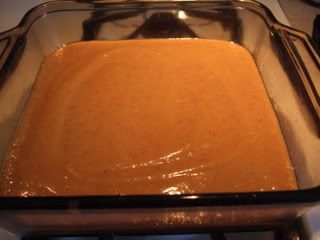 While those were baking, I started a pot of brown rice.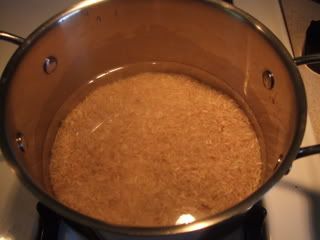 Next, we started some tea. (Put hot tap water in the container, add teabags, put lid on, go away for a few hours. Come back, take out teabags and add some stevia. Easy!)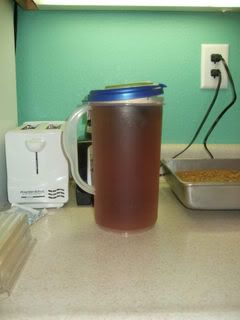 We made some
coffee drinks
too. Mocha mint!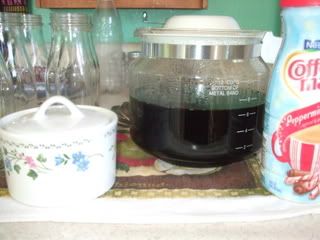 Muffin cake is done! So is the pumpkin custard!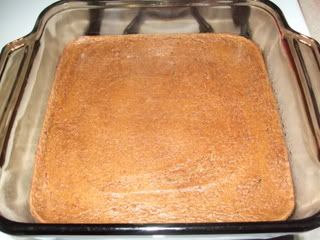 We took a break from the kitchen (and cleaned it up some), then we were ready for Round 2!
Some of the brown rice went into
this casserole
. We used broccoli instead of spinach. If you try it, read the comments! We reduced the Worcestershire sauce. It was a little salty - next time I'll reduce the salt by half too.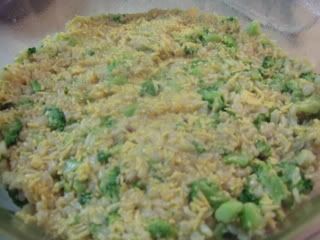 We mixed ground chicken and beef together with breadcrumbs, milk, flaxseed and spices, and ended up with a nice big batch of (over 80!)
meatballs
.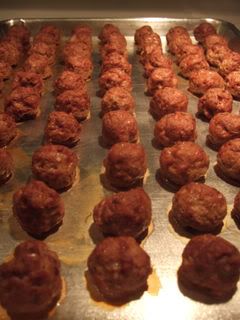 We have salad fixins and carrot sticks ready to eat as well! Alfalfa sprouts and chia - yum!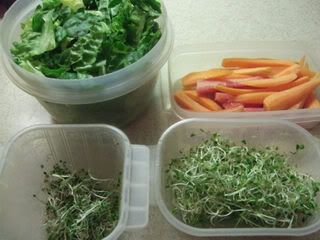 And that was our cookin' day. I'll be freezing some meatballs for future use. We have lots of healthy food on hand and ready to eat, which should make our meals easy to put together for a few days. Tonight will be chicken tenders, the broccoli/rice/cheese casserole and fresh fruit - yum!
Do you do some form of once-a-month cooking? What do you like to make?