Well, sorta. This is something we LOVE to eat for breakfast or dessert. It's less sweet than the filling in pie, lower in fat, but still yummy, packed with vitamin A and pretty good on the fiber. Plus, I get a kick out of the thought that my daughter is asking for a vegetable at breakfast!
Here are the ingredients...and yes, even I think it's goofy that I'm using a can of pumpkin when we just harvested 157 pounds of pumpkin from the garden, but none of that is cooked or prepared yet, and we want some pumpkin custard now!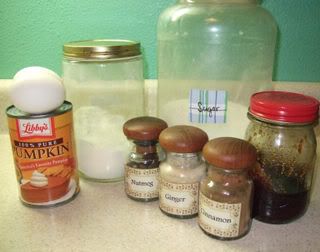 This is simple to put together. First, pre-heat the oven to 375 and spray a casserole dish with nonstick spray. Then, combine the following in a mixing bowl:
1 15-16 oz. can of pumpkin
1/3 - 1/2 cup sugar
a spoonful of molasses if you like it (we do!)
1 t. cinnamon
1/2 t. ground ginger
1/2 t. ground nutmeg
(Or, 2t. pumpkin pie spice)
2 eggs
2/3 c. milk
pinch salt (optional)
I didn't get a picture of all that in the mixing bowl, but I do this: I mix together everything but the eggs, then I taste it for sweetness/spiciness, adjust sugar/spices as needed, then add the eggs and mix them in. Easy peasy.
Then, you just pour it into the casserole dish, and it will look like this:
I baked ours for about 50 minutes. We are at high altitude - yours may cook a little faster! Here is the end result: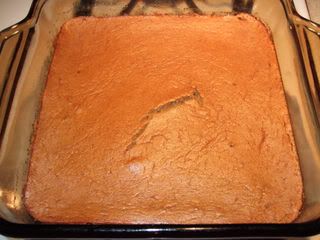 If it's dessert, we put a little whipped cream on top, but at breakfast, we just warm it up a little and eat it as-is. A piece of homemade toast on the side makes for a yummy, filling breakfast!