I've been making an actual effort to eat more raw foods each day. I'll never be a raw food purist, but I do think raw foods are important to good health.
I've been doing fruit and/or
green smoothies
several mornings a week, and I've been eating some nice salads too! It occurred to me tonight that I should share! This was tonight's supper salad: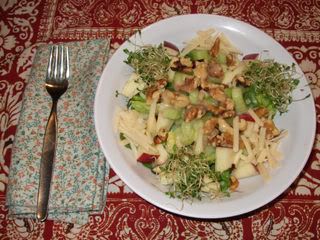 It is....'waldorf-y' It has romaine lettuce, then half a red delicious apple cut into chunks, a cup up celery stalk, some (raw) walnuts, then some alfalfa sprouts from our kitchen sprouter, a little grated parmesan and some honey-lime dressing.
How to make honey-lime dressing: Put some honey, lime and light mayo in a bottle. Shake the bottle until it's all blended. Taste it, and add more of whatever it needs more of. Yummy.
OK, so the dressing isn't totally raw, since the mayo and lime juice are from the store (the lime juice was in a bottle). They honey is from our bees, so it's raw. And the last of the pringles that I just ate? Those weren't raw either.
Pobody's nerfect.
Anyway...yummy! I'll share pictures of a salad every so often, K? If you were here, I'd share an actual salad with you! Wanna bite?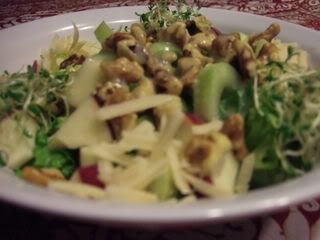 So, tell us - what do you like in and on your salad? Leave a comment!