Greens are good. They're also very good for you. Everything I've ever read about nutrition and health says that the more greens you consume, the better. Also, to get optimal nutrition from your greens, most of them should be raw, and they should be chewed very, very well.
Or.....blended.
Honestly, I think you have to try one of these to believe how good they are. They are sweet and fruity, despite their appearance. It's like drinking a melty popsicle. Plus, I feel great any time I drink one. Kids love them too. So, here's how to make a green smoothie.
First, half-fill your blender with fruit that you like. Fresh is great, frozen is good, and canned, well, this is YOUR green smoothie. I've done it, and nothing bad happened. For starters, about half a blender of fruit. We used a frozen banana (broken into a few pieces), some frozen peaches and fresh cantaloupe. Personally, I like what the frozen fruit does for the texture and flavor. If your frozen stuff is rock hard, you might want to let it soften a few minutes before you start, though. This is especially true if you don't have a great blender.
Then, about a cup and a half of greens. Raw spinach is mild - you'll notice almost no change in flavor with it. If you're not sure, start with less - just a cup, or even half a cup. You can always add more, but it's hard to take it out, so start with something that makes you feel comfortable. You also need to add some juice or water. We used water for this batch, because the frozen peaches are sweetened. I didn't want the smoothie to be too sweet.
Then, blend it! If it does this, you probably need a little more liquid.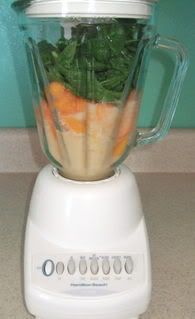 We added some more water, and then we got this!
Yum! Breakfast is served! This is about 2 cups...the batch we made today made about 3 cups, which is actually considered a serving for one person (I shared with my little cutie)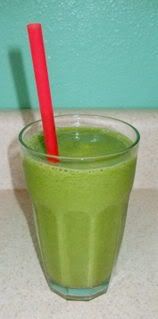 These really are good, fun and forgiving. If you only have fresh fruit, use a couple ice cubes to make it cold and frosty. If you have part of an apple, toss it in! Some combinations we really like include:
pear-strawberry-apple juice-romaine lettuce
banana-strawberry-orange juice-spinach
banana-strawberry-blueberry-kale
pineapple-blueberry-grape juice-spinach
But really, just about any combination I've tried tastes great!