I've said it before, and I'll say it again. Amy Karol's book,
Bend the Rules Sewing
, really inspired me to do some creative things. If you haven't seen this book, give it a peek!
This tote is made from leftover scraps. The jungle print piece was not enough canvas to make the entire bag, so I used a scrap of off-white (natural?) canvas as an insert.
The bright orange canvas was the last of the scrap from
the patchwork tote bag I made for the mission.
The lining had to be pieced, and it doesn't exactly match the blues on the outside of the tote, but it has giraffes, and really, I think it goes with just fine.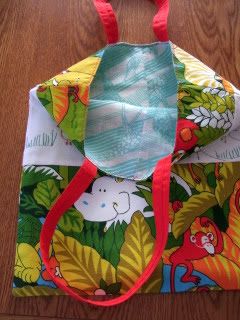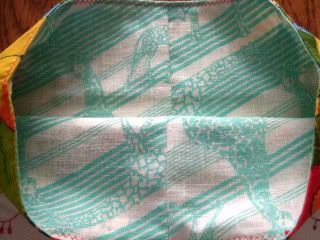 In Bend The Rules Sewing, Amy shows you how to do some free-form stitching (I'd reference the page and all, but I ran out of library renewals, so the book isn't here right now), and I did something similar to "embroider" the animals on the canvas insert.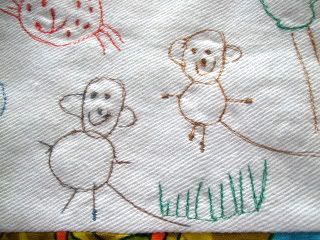 Since I didn't have canvas to spare, I asked Little Bit to draw her jungle animals on paper, and then I used transfer paper to get them onto the canvas. That way, she could choose her favorites and not worry so much about being 'careful'.
Front and back inserts, before any sewing was done.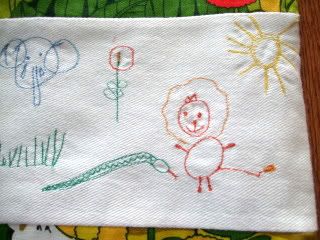 This was fun to do, and if anything, it's even cuter in person. Whenever she outgrows it and casts it aside, I'll definitely put it away for safekeeping! I love those little elephant tusks, and the lion's crooky tail!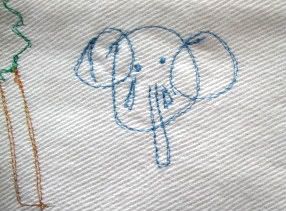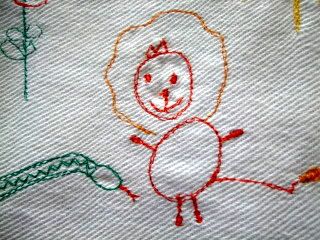 Thank you, Amy, for the encouragement and inspiration. Happy sewing, everyone!
-Laura at TenThingsFarm