Tallulah is a somewhat typical cat. She is playful, friendly, fiesty, lazy, and sometimes, well...I promised I'd get some photos to show you her special...skill?
Cats spend about 16 hours a day sleeping, so there are stretches of time when we don't see Lulie at all. She's snoozing on a sunny windowsill, or perhaps in one of her cozy nests. But if there is the slightest indication that we're going to eat a meal, she sprints to the kitchen, and this is what she does: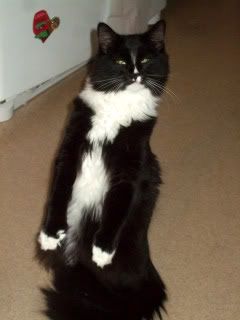 I have had cats most of my life, and I've never, ever seen one behave like this. She will perch like that for a minute or two, and if you ignore her, she'll wave her paws or chirp at you, begging for a treat.
You know why she does this, right?
Because it
works
.
Have you ever seen a kitty more in need of a clown hat and a neck ruffle?
My cat is weird,
-Laura at TenThingsFarm