Use it up, wear it out. Make it do or do without.
You may remember that last autumn,
my sweet darling husband scored a Maytag Wringer Washer for me for the sum of $15.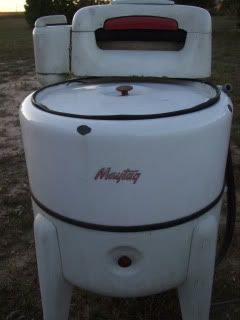 What a guy! I'm one lucky chicka.
Not too long ago, our automatic washer had an episode, and I had to finish some already-started laundry with the wringer washer. The only real problem I've had with it is that the rollers are crumbly. That wouldn't be a problem if I could get replacement rollers somewhere, but so far I have not been able to find a supplier. (If you know of any place, anywhere, that sells replacement rollers for wringer washers, please please please leave a comment!)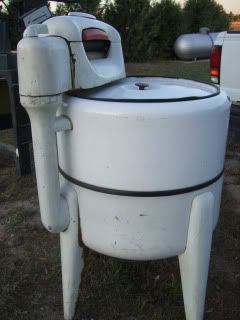 I really did not want little bits of crumbly rubber on our clothes. I'm happy to say that I did come up with a solution. It's probably not permanent, but...
...once again, duct tape saves the day!
My friend Helen over at Prairie Homemaker is so encouraging when one of us finds a way to make do. I want to encourage you, too. What do you to keep things going when they want to quit? How to you fix something when you can't get parts? How do you use what you have on hand instead of buying more stuff?
This is the perfect lead-in to the duck enclosure, which is all materials we had on hand. (Warning: It is evident with just one glace that the duck enclosure was made entirely of materials we had on hand!) I will do my best to take some photos and get that posted soon. Well, just as soon as I get the last bits of chicken wire in place. It's going to be...unique!