First of all, thanks for being so understanding while I took a little break. At this point, I believe that I will be blogging a little less frequently - once or twice per week - but hopefully things will be more topical and more interesting for you.
* * *
Little Bit is really enjoying the chickens this year. This wee little hen has been with us for a few years - we have two of them, and they are just the right size to hold.
We welcomed some new additions to the hen house last week. A friend of a friend was moving into town, and these birds needed a new home. After a week, everyone is getting along rather well. There is still some separation between the resident hens and the new ones, but our rooster seems to be guarding both flocks when we let everyone out, and there has been almost no fussing.
There was one rooster and eight hens. Here are some of them. (The rest are hiding in the little house.)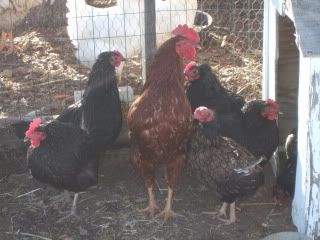 We already have a very nice, very spoiled rooster in
Parrot
...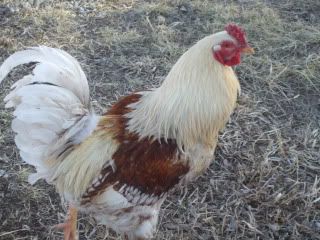 ...so we did not keep the Rhode Island Red rooster. I also had two teen-age roosters that were starting to cause some trouble. I sent all three of them to, er, 'freezer camp'. Now our freezer is well stocked with rooster burgers (ground chicken seasoned with Worcestershire, garlic, onion, salt, pepper, etc.), meatballs and chicken stock.
This little hen must have hurt a toe in all the commotion of getting caught, transported and released here at Ten Things Farm. She started out hopping on one foot. Already, she's just got a bit of a limp, so things must be healing just fine.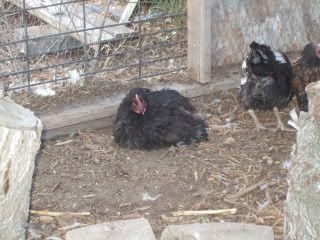 Winter and spring are fighting for these last few days of March. On the pretty days, we let everyone out to look for bits of grass and early bugs.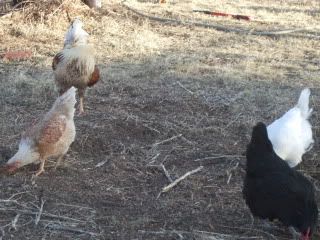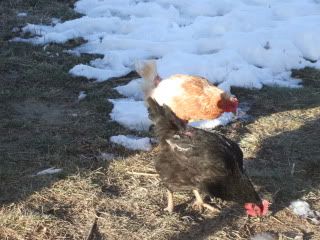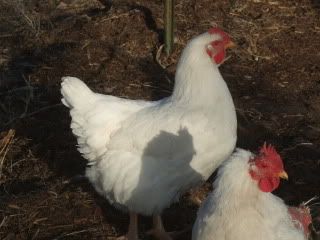 Hopefully, everyone will continue to get along.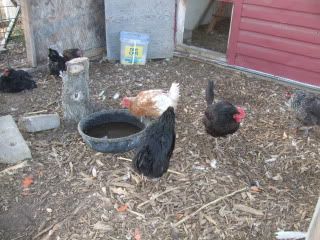 We have some other feathered friends coming soon, so stay tuned!