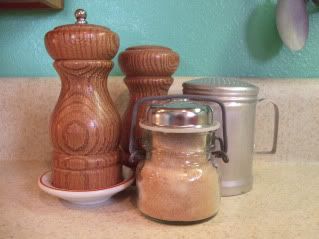 Just a wee tip: A few things are mighty handy in shakers. Sure, salt and pepper are standards in most kitchens - we have a pepper mill, which is prone to leave pepper in little piles on the counter. Keep it on a wee condiment plate and the plate will catch the pepper, saving lots of mess.
The aluminum shaker has flour in it. It's wonderful when I need to flour the counter to knead bread, roll piecrust, etc. Very, very handy.
The wee glass shaker is cinnamon and sugar - great for turning a slice of toast (or a plain pumpkin pancake) into a real treat!