I spent about $24 this week and got quite a few groceries. These are from different stores, different deals. I'll list a few highlights, just for fun.
Gotta love the bread store for the things I can't get made. English muffins always sound like they would take forever to make, and my bagels are still inconsistent, so for $7.50 I got all the breadstuffs in this photo. We'll store things in the freezer and use them as needed, and these items will last us quite a long time.
The great deals here include free-after-coupons Sobe life water and low priced tuna, ranging from 25 to 27 cents after sale and coupons. Skippy was 53 cents after I used a Target coupon and a manufacturer coupon - not bad! Pears were on sale for 50 cents a pound, apples were on sale for 20 cents each. That whole head of cabbage was 63 cents too! Everything was on sale, those were just the really good deals.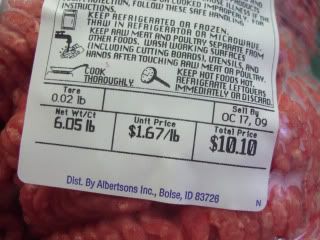 Finally, I picked up some 93% lean ground beef. I usually grind my own, but this was a really good price and it will save me some time since it's already ground. I plan to freeze some for hamburgers, cook up some chili and mix some with ground turkey or chicken to make meatballs.
For less than $25 we'll be eating this food for far more than one week. WooHoo!
I have one national blog and one local blog I use to help me find sales, coupons and special offers. For national stuff check out http://www.moneysavingmom.com and if you live in my area, try http://www.springsbargains.com for local specifics.
Happy savings to you!