We finished digging potatoes this past weekend. We planted 5 pounds each of Kennebec, Russet, Red-skin and Yukon Gold, plus we tossed in some blue potatoes that were left over from the previous year, just to see how they would do.
The blue potatoes, Kennebec and Yukon Gold finished up a few weeks earlier, so they are already in the cellar. The Red Skin and Russet varieties needed more time, so those are the ones we dug this weekend. See how scraggly and scruffy the plants got toward the end?
There were a lot of potatoes under those plants.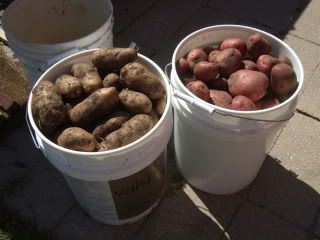 We even had a few 'volunteer' plants over in the onion patch, where we must have missed a few the year before. The yields from those plants were really good too.
All told, we harvested 220 pounds of potatoes. YIKES! That's a lotta potatoes! If we can get them properly cured and stored, they should keep a while, but even so, I'm going to have to come up with some creative ways to prepare them. I may even sell or barter some.
What's your favorite way to eat potatoes?