Currently, we are all sick with one thing or another, so we are spending a lot of our time resting, sipping hot tea, taking naps, coughing and sneezing. I'll do my best to keep up with posting, starting with a little birthday series!
Little Bit celebrated her fourth birthday this weekend! We talked a lot before her birthday about what she thought would be fun and neat, then we set about creating it. Her gifts came from thrift stores and yard sales, and the decorations were from the craft room. It's not so much that we couldn't put on a big flashy event, but more of a philosophy. By 'recycling' toys, it was greener for the planet and our wallet.
Once she was asleep in bed, we got started on the preparations.
Gifts....
She loves to play 'camping'. She turns off the lights in the living room and gets the emergency flashlight, then shines it all about the room looking for owls, mice, roosters and cats. (hee hee) We would prefer an emergency flashlight with strong batteries, so we took a spare flashlight and a little sheet of stickers from the craft room and made her a camping flashlight of her very own.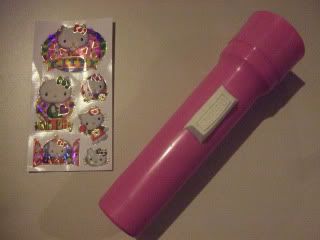 I got these at a yard sale this summer, box and all! Her other gift from us is a floor puzzle that was still like brand new - from Goodwill.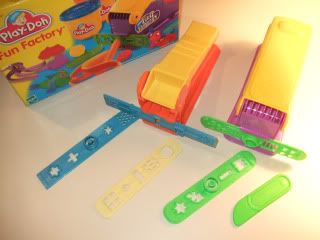 Next, a few decorations....
We made these from pipe cleaners that we had on hand. She's really excited about being four, so we knew she'd like them. See the mylar ballon to the left, and the Elmo eye on the bottom right? Those are mylar balloons from previous birthdays. If you stick a straw in the opening, you can blow them up! You can also get them re-filled with helium, but I didn't think of it in time, so we just put them up in the bay window for decoration.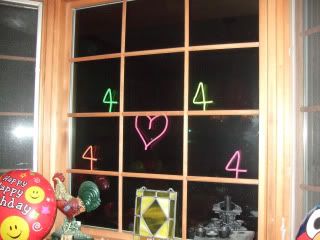 The chair with 4 balloons on the back of it is her chair. We taped ballons here and there, and put up ribbon. It's actually wired ribbon from the craft drawer, which can be wound back on the spool when we're all done. (I think I have crepe paper somewhere, but I couldn't find it!)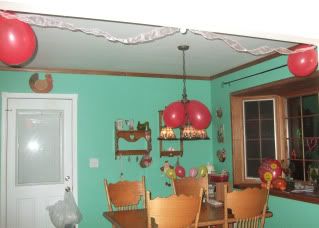 She wanted a ladybug theme, so we made this little cutie for her space at the table.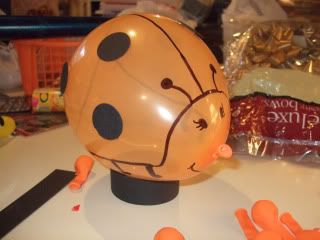 Just before bed she asked me, "When I get up in the morning, will there be a Happy Birthday sign?" so I cut out some letters. (After her birthday we can put the 'happy' and the 'birthday' away for next year, and put her name up on the wall in her bedroom!)
Her presents, all wrapped and ready for the big day!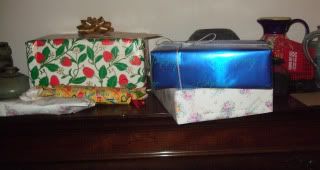 Food...
She was fairly specific about her birthday food. She wanted ladybug cupcakes and cesar salad, with the good 'shreddy' parmesan cheese. She agreed that chicken and biscuits would be OK with the salad too, but she was mostly interested in the salad. Also,
she
wanted decorate the cupcakes, so I simply baked them the night before. Tomorrow I'll show you how they turned out. :)