I've been working away at
Organized Christmas
whenever I'm not canning chili sauce, applesauce, picking onions - whatever - and the house (and the plan) are coming together nicely!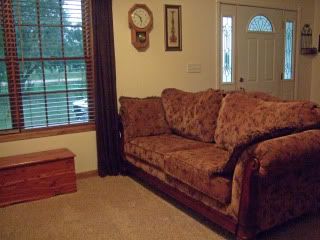 This is our couch. It's the comfiest, coziest couch ever. It also takes up a
chunk
of real estate in the living room. Yeah, it's kinda big. See those windows there? It used to be centered in front of those windows, but lawsie mercy, it made it hard (for me) to get the windows open or closed. It was blocking some light too!
I like it better where we have it now. It makes the room feel more like a room, too.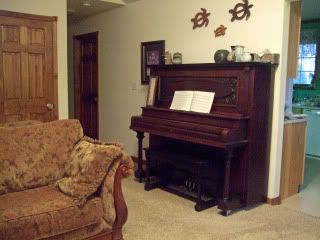 The other space hog in the living room is the piano. This is a great spot for it, though - it sits directly over the support beam that runs the length of the house. I wish you could hear it - it has beautiful sound. It was made in Rockford, IL. I grew up (Kindergarten through about 5th grade, then 7th grade) not too far from there.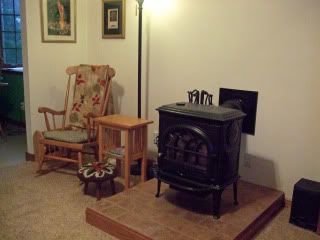 We also moved a bookshelf, and that freed up this corner for a nice reading spot. Close to the stove (warm in the winter) and I can see down the hall if Little Bit is supposed to be napping and isn't!
So - did you believe for even one second that 1. Little Bit takes a nap 2. I get to sit and read while Little Bit takes a nap ? Just wanted to see if you were paying attention, hee hee.
There is another corner of the room that I swear I photographed, but I don't seem to have the photo - sorry. It has two book cases that meet at the corner - one on each wall - full of books. Molly's blanket is in front of it, the stereo is there too. It's a nice mini-library, and I'm frequently finding Little Bit on Molly's blanket, reading her library books.
As of tonight, the living room is de-cobwebbed, dusted, and rearranged. The windows were washed inside and out, and since it had never gotten done, the window frames were coated with polyurethane. The wood blinds were dusted and cleaned. (I love wood blinds, but I sure don't love cleaning them very much!) All the upholstery was vacuumed, drapes were air fluffed with tennis balls in the dryer, and the floor was vacuumed well. Everything was taken off the walls, dusted and cleaned, and the paint was touched up anywhere that needed it. Also, in other Organized Christmas business, lists were made and I froze some bacon-cheese-potato-veggie soup for a busier time.
Not necessarily in that order. In fact, I vacuumed well once, then got out the thingie to clean all the dust from the ceiling fan - duh - then I got to vacuum again! And dust. Oops!
This coming week - the entry, which means I'll be painting the other side of that
door
.
Are you doing
Organized Christmas
? How's it going?