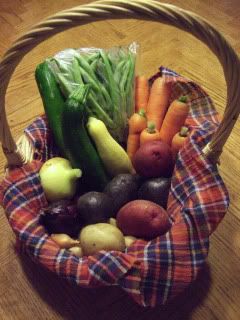 Little Bit and I took this basket of home-grown produce to Friday's TOPS (Take Off Pounds Sensibly) meeting. We sold raffle tickets - 3/$1. We raised $17 for the TOPS group, and one member went home with all this yummy stuff! The basket was one we had on hand, and the fabric is from my stash. The lady who won is going to bring the basket back so we can do it again another time.
It was win-win. We have a lot of produce (in spite of the hailstorm) and it was a good way to bring in some cash for the organization. $17 isn't a ton of money, but it's not bad either!
I haven't talked about it much lately, but I've lost 19 pounds since I started. It has been coming off very slowly, but at least it's coming off! For those who aren't into math, that's 76 sticks of butter, hee hee.