Overall, Molly is doing great, and she is a really sweet girl. We are really happy to have her and glad she is part of the family. That said, today was not our best day.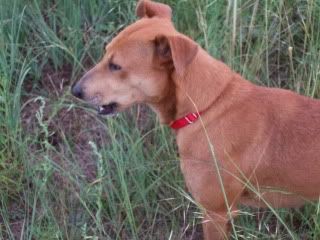 Her toenails have gotten long, and needed to be trimmed. My neighbor gave us one of those pedi-paws things - it's like a dremel for pet toenails. I don't think Molly is ever going to let us get near her with it. She completely freaked out over it, and even after I put it away, she was futless about the whole ordeal.
After a lot of fussing, pulling, ignored commands and eventually, wrestling, I finally got her nails trimmed with toenail clippers (the doggie nail clippers were just kind of squishing them). Then, because they had sharp edges, I had to file them. By then she had given up on resistance, so that part wasn't so bad.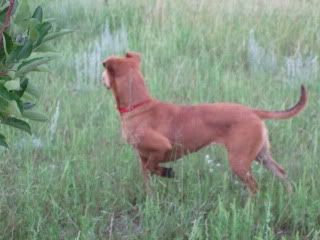 I let her out once her nails were done, so she could run and get rid of some pent-up energy and stress. She bounded around the yard a while, then she went pee - I saw her go pee - and then she wanted in, so we went back inside. A few minutes later I began vacuuming. She doesn't like the vacuum, but as long as she's been in a different room, she is pretty OK. Today, she peed on the rug in the entry. Thankfully it was a throw rug on tile - not carpeting. Still...not our best day.
We love you, Molly. Tomorrow will be a better day, kiddo!