A few days ago Little Bit asked if we could make a carrot cake 'like the ones in the store that have frosting carrots on them'. We did cupcakes instead, but they came out cute!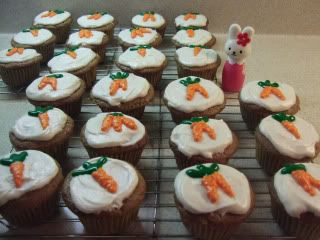 We started with a cake mix (slacker alert!), but we added in more carrots, some raisins and pineapple. Yum! Cream cheese frosting, then we used gel color to make the orange and green.
The carrots are so easy to do - take a 'writing tip' and just give it a wiggle as you go. After we had one carrot on each cupcake, we just added more here and there until we ran out of orange. Waste not, want not!
The tops are even easier - just make some quick lines with the same tip, and you're set!
Voila! And YUM!