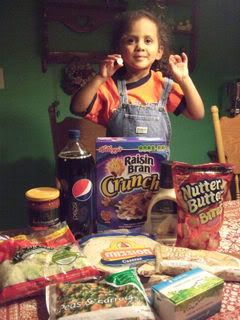 Safeway loves me. Well, I guess they love everyone.
There were some really great coupons in this week's ad. Just a few, but really good prices. A couple days ago, we got a postcard in the mail with even more great coupons. Many items were free with a $25 purchase. So, this is how to spend about $2 for everything in that photo (adorable child not included)
1. Gather up all the stuff that is either a screamin' deal or free with the coupon.
2. Scan everything (I go to self-check) or have the cashier scan everything. Get a total. The total for everything in that photo (again, adorable child not included) was $27-something.
3. Now, scan your shopper card, to get the sale prices.
4. Scan all the store coupons, then any manufacturer's coupons. Watch that number get smaller and smaller.
5. Total: $1.96!! And...while I was scanning, Little Bit found two pennies on the floor (that's what she's holding up in the photo. Better yet, while we were shopping, Hubby found another of the postcards from the mail that someone had left on a shelf, so we did this whole thing twice!!
Summary:
FREE: Garlic Cesar Salad dressing, Brown Rice, Frozen Vegetables, Tortillas, Salsa, Bagged Salad and Pepsi.
Raisin Bran Crunch was on sale for 99 after store coupon and shopper card, plus I had a 70 cent coupon.
Butter was 99 after store coupon and shopper card.
Nutter Butters were on sale for $1 and we needed the non-sale price to get our $25 originally. (Hey, you gotta do what you gotta do! hee hee)
I had some overage on some of the free coupons, so that is why it came out $1.96. For example - the frozen vegetables were 1.50 on sale, but the 'free frozen vegetables' coupon took off $2.
So the next time someone tells you that they don't coupon because it's all processed junk food, please send them here so they can see the frozen veggies, green salad, brown rice, salsa, etc. Thank you Safeway for such great deals!!