I mentioned yesterday that we dug up a little horseradish on one of our recent warm weather days. I have dug (have dug? Is that proper grammar?) horseradish before - this time I actually made something out of it!
Have you ever wanted to make your own horseradish? Well, hold onto your sinuses, and I'll show you how!
This is a dormant horseradish top..all brown and withered.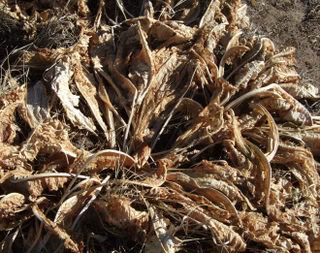 When you dig below, you find this brown woody root.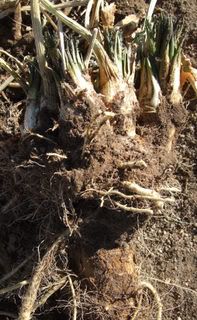 I dug three of them.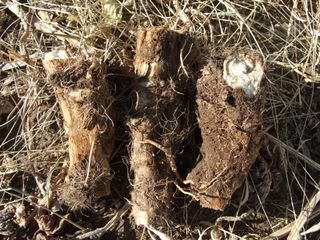 This is how they look once they're washed.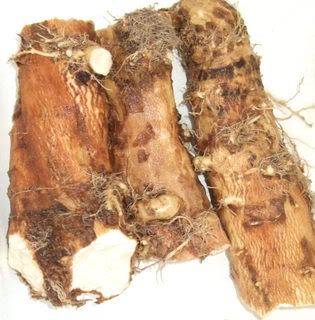 And this is how they look all peeled. Woody. Already, they smell pretty good!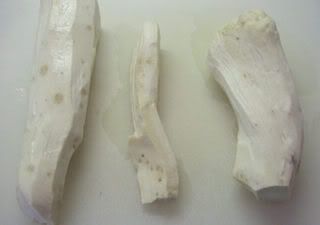 Because these stems are pretty big and thick, I sliced them into thin slices. Then I put those slices in the blender with some white vinegar. I used the 'food chop' button first to break them up, then puree'd them completely.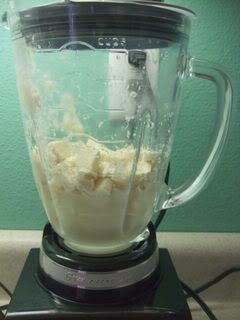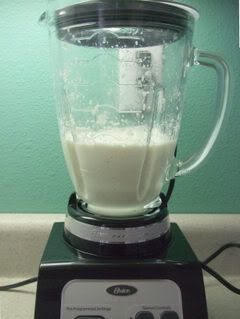 On the advice of my Aunt Laura, the official horseradish makin' pro in our family, I took the blender top outside to open it. She said the fumes would be really strong.
She wasn't kidding! I thought the siding would peel off the house! Anyway, I poured the horseradish/vinegar into a strainer, and collected the vinegar in the big measuring bowl. This is only half the horseradish, so I'm going to re-use the vinegar for the second batch. (I had to add a little more vinegar too, but that's cool.)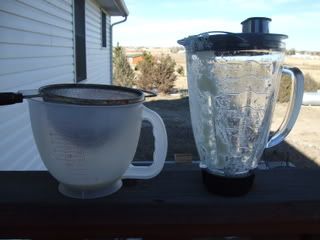 I drained the second batch as well, to separate the vinegar from the horseradish. Then, I added a spoonful of sugar, so it would be hotter. Note: We didn't need any help from any sugar in the 'hot' department.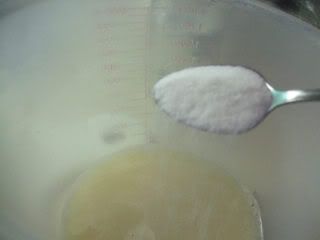 Then I added the sweetened vinegar back to the horseradish, and then put it in jars.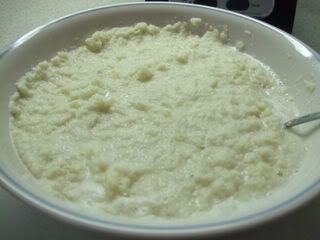 That is a LOT of horseradish. I wonder how long it will keep? I wonder if any of my neighbors want some?
I learned a couple of things from this experience. One - making prepared horseradish is easy, especially with a blender. Two - if you put your nose to the jar and take a big whiff, your entire life will pass before your eyes and your sinuses will temporarily leave your body. But then, the hot goes away, and you're ready for more ;)
We'll be learning lots of ways to use horseradish, I'm sure. I made some cocktail sauce with it this morning. I love to mix a spoonful into tuna salad for 'kick'. One of my favorites is a dip made from light sour cream, prepared horseradish, a pinch of salt and paprika. Just mix it all up and let it mellow a bit (it will mellow - promise!) It's a great dip for pretzels. Horseradish is really good with beef, too. How do you use it?