We couldn't let all this great snow just sit there, so we packed, and rolled, and stacked, and decorated until we had ourselves a really cute Snow Kitty!
Unfortunately, by the time Snow Kitty was all ready for pictures, our Little One was ready to go in.
Like, now.
Or, now.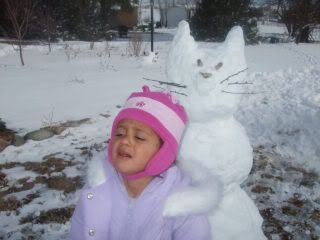 Or, perhaps, NOW.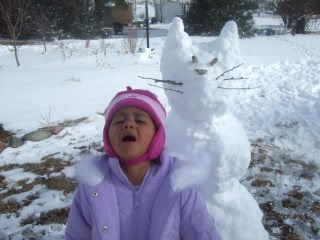 We were only outside for a few minutes, but she took her gloves off (against motherly advice) and made snowballs with her bare hands (again, against motherly advice) and so she was more mad than anything. Two minutes inside and she was allllll better. :)
They're both awfully cute though, aren't they? What really gets me is that she was trying
so hard
to smile for the pictures...but she'd do a really fast smile, then fuss a bit. My camera just wasn't fast enough to catch the happy moments!