Yesterday was a 'town day', mostly because I had forgotten to arrange for the next tote bag of books for our book club. Since I was making those arrangements last-minute, we went to the main library to pick up the books. Since we were going to town, we took advantage of some great coupon-sale combinations.
See all this? K-Mart, nineteen cents. It was all on sale, then free after double coupons. The nineteen cents was sales tax on the air freshener.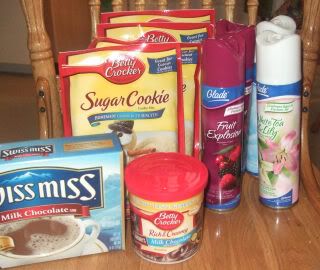 We had to go clear across town, so we were by the other K-Mart. I still had cookie mix coupons, and I was hoping for 'any flavor but sugar cookie', hee hee. They had chocolate chip! This group of stuff was $1.68. The 75 ft. foil was 99 cents after sale and double coupon, the cereal and cookie mixes were free, and so was the Dove shampoo! The Vaseline lotion was 19 cents for each bottle, plus some tax for everything. I also got a free small bottle of Tums 'Smoothie' tablets. I forgot to put it in the picture!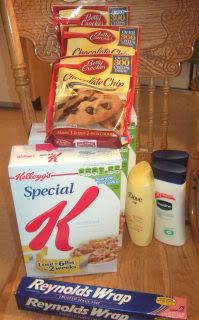 Finally, these items were on sale at Albertson's. They are also doubling coupons; not as much as Kmart, but enough that these items were all free! However, there was 24 cents sales tax on the toilet tissue. You can't tell, but there are 8 bags of frozen vegetables there. Yay!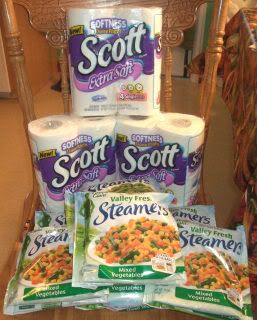 So, the total spent for everything in all three photos, plus the little bottle of Tums that I forgot to photograph, was.....$2.11
I did other shopping, but these were the really great sale-coupon combinations. We will not be able to use all of the items we got free, so we will be taking some of this to the local food pantry. More on this soon - because I have some big plans for couponing in conjunction with food pantries!