It's the night before. We got some things done, but there is still plenty for tomorrow!
Quick (and probably too late) tip: Make your pumpkin pie filling in the blender. If you're using homegrown pumpkin, you're assured of a good puree', plus it's easy to pour into the crust!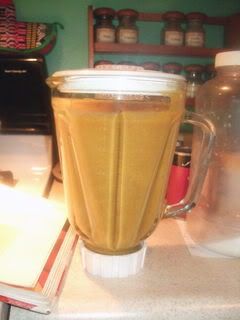 After you make the crust, put the foil around the edges...
Set the crust/foil on the oven rack, then pour in the pie filling. Lots easier (and neater) than putting the filling in and trying to get the pie to the oven without sloshing! (extreme close-up so you can't see how dirty my oven is!)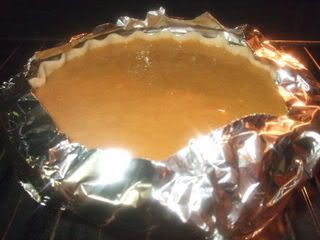 Oh yeah, and if there is a bit of extra pie crust, re-roll it and cut it into some shape (we did a heart this year) and bake it. When you test the pie for doneness, it always leaves a cut or mark. You can cover the mark with the pie crust 'decoration'!
I got the carrots peeled and cut (homegrown carrots have a lot of color variation - so pretty!). Tomorrow I'll steam and glaze them.
The cranberry stuff is made, pie is done, rolls are made, and the ingredients for tomorrow are gathered and ready. The 'good dishes' are in the dishwasher (after a 'light' wash to make sure they aren't dusty). It feels like everything is ready for tomorrow, except....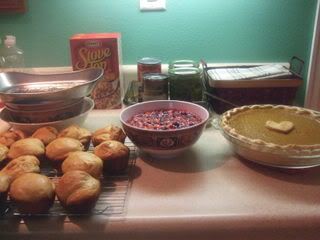 I haven't dropped anything in the floor yet, I haven't burned anything, nothing has come out too salty, super bland, greasy, ugly. It's not Thanksgiving until something goes wrong, you know? So, tune in tomorrow, as I'm sure there will be something 'interesting'. Exploding corn? Flaming turkey? Only time will tell.
HAPPY THANKSGIVING, EVERYONE!