We went to town today, mostly for errands. We stopped in at Goodwill too, and I found 'my' cookie jar.
Seriously, this cookie jar couldn't be more 'me' if it wanted to!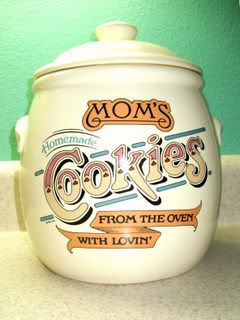 I love it! Hello, 1983 pretending to be antique-ish!
Little bit asked me what it says on the front. When I told her, she started laughing. "From the oven with lovin'? That is FUNNY, mama." Laugh all you want, little girl....I love my cookie jar!
Oh, and she wants me to show you what she got today:
We played some this evening while dinner was cooking. It was a lot of fun, and I was amazed that she knows all the letters already. We haven't really 'taught' them to her...but a lot of her toys have letter-y stuff, and she's asking about words already, so I guess I shouldn't be that surprised.
Oh, and as for errands and shopping...I did some grocery and household shopping today. I spent $9.33 in cash and used $13.99 in coupons, AND got a coupon for $4 off next time I'm in Walgreens. I think I'm going to track my 'coupon cash' - the money I spend that is actually coupons, for a while. And...I think I'll keep all my receipts in my new cookie jar! ;)