With the harvest of that
first pumpkin
we have been doing a bit of 'preschool homeschool' about all things Autumnal. Mostly, learning about Autumn for a young preschooler is a matter of exploring and discovery. It's been a lot of fun!
We went for a walk around the property this past week, and we noticed lots of beautiful color on our trees. She gathered examples, brought them home, and made this lovely collage!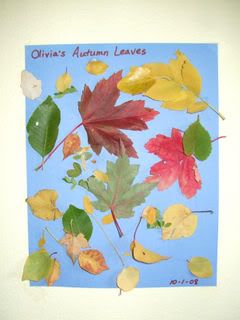 If you have a young preschooler at home, all you need for this collage is local Autumn leaves, a piece of cardstock, construction paper, tagboard (really, whichever of those you have on hand) and as much glue as you will let your little person squirt out of the bottle. This example has about 2 ounces, or about 8 times more glues than was necessary. Hey, that's part of being a kid!
I'm also introducing her to the flannel board. This one is home-made from a scrap of 1/4 inch plywood, some spray adhesive, and blue flannel. It's also stapled on the back (quarter inch staples in the staple gun), just to be sure it stays securely in place. If you are planning to make one, a fairly dark flannel will look clean longer. Just sayin'.
I cut out this tree trunk and branches. I taught preschool for a long time, so I just did this freehand. (I've had lots of practice!)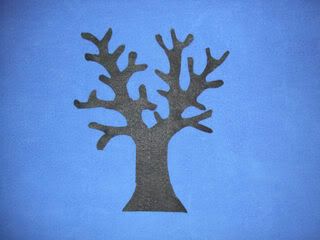 These are felt scraps we had on hand. We used those to cut a bunch of little leaves. It's a really open-ended way to experiment with flannel boards, plus it's fun (and pretty!)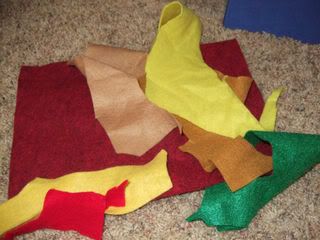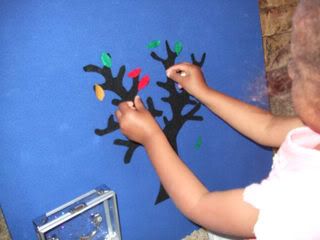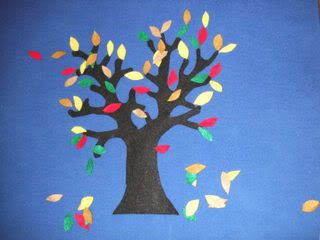 The younger the child, the larger the felt pieces should be. This is for safety and ability. Tiny pieces can be a choking hazard for little ones...plus they can be frustrating.
We've also been reading lots of fun books, playing 'Clifford's ABC Bingo' and playing with lovely orange play-dough!