I do a little substitute work for the library, and I worked today. After my shift, I used a little public computer time (very little, actually) to print a few coupons. I got all this with the coupons - well, all except the 2 bags of croutons. I bought those because otherwise, I would have had a negative balance. My coupons were so good that they paid the full price of everything, the sales tax, and then some.) My total cost out of pocket for all this stuff? 72 cents.
Seventy-two cents.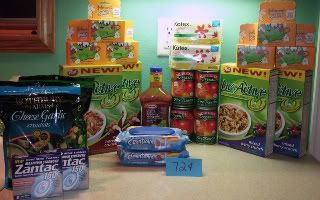 I'm still learning how to do this - I highly recommend the site www.moneysavingmom.com Highly. Recommend. Seriously - seventy two cents!
We also spent some more at Safeway - that free grocery money I posted about earlier. I'd post a photo, but I don't want to pull the roasts (three of them!) out of the fridge. We also got a big head of green leaf lettuce and chips for sweetie's lunches next week. We've got about $5 more to spend, then we'll turn in the receipts and get the $75 reimbursed. I've already gotten 'mine' back.
In addition to all that wonderfulness, I stopped at the firewood gettin' place on the way home and filled the back of the truck with free firewood. Better yet, I kept all that wood out of a landfill. We don't have to cut down a tree (on the prairie, we do our best to never have to cut down a tree), we are able to supplement our heat significantly - it's a good thing all around. (I know some of you are concerned about the smoke - we have a high efficiency stove that goes a long way toward decreasing the pollution put out by burning wood.)
And now it's the weekend! What are you going to do? I'll post our weekend tomorrow or Sunday - it's getting late, and I'm sleepy!