Okay...maybe not zillions, but with the price of everything going up - hey, you never know.
We have some trips we hope to take in the next several months. And you know what you get when you go somewhere, right? A T-shirt. Usually in the $15-$20 price range. And I don't understand the laws of nature that dictate this, but it has been my experience that the more you pay for any article of clothing, the sooner it gets ripped, stained or otherwise ruined. So in an effort to create harmony in the universe while I save money, I've started keeping an eye out for 'location' T-shirts at the thrift store.
This picture shows $1.25 in T-shirt expenditure for our daughter. Not $1.25 each, but
total
.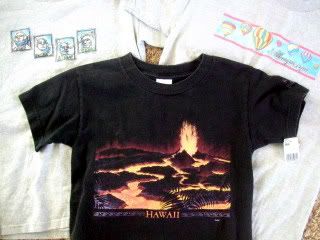 How cool is that?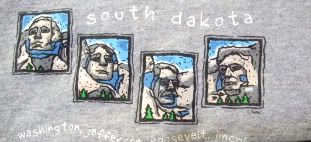 So now, when we go to see Mt. Rushmore, she can wear her shirt to the monument. Sweet!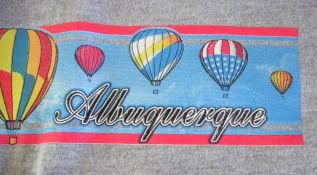 Have you ever been to the balloon festival? It's really something. There is this vendor that has a machine that makes little tiny bite size donuts. Not like the ones you can buy in a store - lots smaller. You can stand there and watch the dough plop into the oil, then a mechanism turns them, then they go on a wee conveyor and cool a little and get covered in cinnamon sugar. When you get the bag of them, they are still warm. Oh, and there are also a lot of amazing balloons.
heh.
And this is the year to go visit Hawaii Grandma and Grandpa. How lucky is this kid to have grandparents in Hawaii! Not only that, she has grandparents in Tennessee! Seriously, does life get any better?
Well, yes, yes it does. Because I figure I saved an hour and a half of total shopping time on vacation, along with at least $40. That would buy quite of few of those little donuts, don'tcha think?
Yum,
-Laura at TenThingsFarm