This Saturday I picked up from Bountiful Baskets. We are sharing with our neighbor and I'm glad about that, because it was a lot of produce.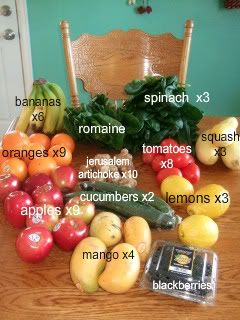 I was especially excited about the jerusalem artichokes. Instead of eating them we'll be planting them so we can grow more! My neighbor was happy to let me keep them all in exchange for the spare lemon and squash. Woo hoo!
We've already eaten our share of blackberries and one mango. Yum, by the way. We have plenty of apples, oranges, bananas and vegetables for lunches and snacks. You'll see some of those fresh fruits and vegetables included in our supper menu for the week. The others listed, like onions, potatoes, green beans and butternut squash are all home-grown and from our root cellar or pantry. Here is the supper plan.
M - skillet lasagna, corn meal coated squash and onions, chocolate pudding
T - smoked sausage, butternut squash, green beans, apple wedges w/fruit dip
W - grilled marinated turkey steaks (cut from the breast), rice, potato salad, sesame spinach, kimchee, pineapple sorbet
R - taco salad, fruit salsa with graham crackers
F - BLT sandwiches, charro beans, potato salad, orange wedges
S - takeout pizza (we won a pizza!), vegetable tray w/dip, fresh fruit
S - saimin w/ham and vegetables, brownies
That's the plan, subject to change as always. What are you eating at your house this week?
Shared at Menu Plan Monday and
Homestead Barn Hop
,
-Laura at TenThingsFarm