I am becoming quite the pro at cleaning chicken feet. This weekend was my tenth chicken program at one of our local libraries. The chickens and I have a routine now.
1. clean chicken feet, put chickens into pet carriers, load pet carriers into car
2. drive to library, discover that the chickens have pooped (and danced in it) the duration of the trip, clean inside of pet carrier, clean chicken feet
3. set up for program, set up craft, set up corn grinder, check on chickens, discover that they have pooped
again
, clean out droppings and clean chicken feet
4. say prayers of thanksgiving that I never did throw away that Huggies container, which I keep full of baby wipes for these programs
Silliness aside, the programs are going great. With the exception of one program (which I refer to in my mind as 'the poop-fest') the birds have
not
done a lot of pooping during the programs. Sure, there has been a little, here and there, but that's why I put down old quilts on the floor. The children have loved learning about chickens, getting to hold and pet them, doing the craft and grinding corn. I think they like grinding the corn just as much as petting the chickens.
Don't tell anyone, but I think I've had more fun than all the kids put together. I have met so many nice people, and it's been lovely to talk to lots of parents who either have or plan to get a few back yard hens. We have had fantastic attendance, which leads me to believe that a lot of people either love chickens already or are at least interested in them. How lucky am I, to get to share in that?
That took a good chunk of Saturday. We went into town that night for supper, and I found an old blue canning jar with the zinc lid for $3 at Goodwill. I don't need one, but I love them, and I had $3, so now it's home, waiting for me to fill it with something yummy.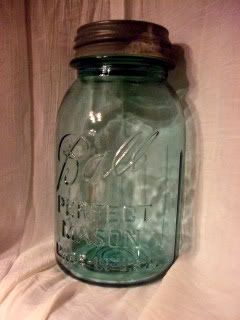 I don't can in those old jars, but they are great for storing dried fruits and vegetables. They make me feel...content...happy...connected to the past...and that's worth the $3 in my book. I have a price guide for old canning jars. I should look in there as see what it's worth in their book, hee hee.
Sunday was a little windy, but we spent the afternoon outside. I let the turkeys and chickens out to roam a bit while I put up a perch for the turkeys in their run. I also filled the nest - or at least the space I hope our hen turkey will use as a nest - with straw. It's early, but I'm hoping she'll get the idea and know what it's for once she starts laying.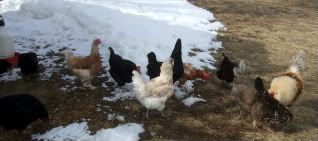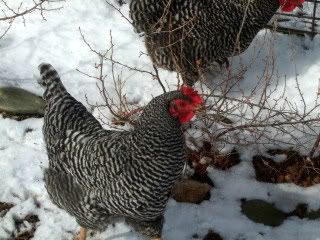 The birds enjoyed a little time hunting for green shoots and goofing off. We also gained a hen turkey for a little while there. Our neighbor has a slate hen, who came over to see what was going on. I think she's smitten with our tom. This might work out really well for mixing blood lines and getting poults for us and the neighbor. Time will tell.
I picked up a few garden seeds and some potting soil too, so we are ready to start our seedlings when the time comes. I didn't need many seeds, but managed to fill in a few small gaps for just a couple dollars.
Truth be told, I spent
most
of my weekend eating tacos. I got a book at the library on Friday afternoon that's full of recipes for different fillings, and I've been trying all sorts of combinations. I haven't found one yet that I don't like! (I also haven't quite followed any of the recipes yet, but they are inspiring!) I've been making them on soft corn tortillas and boy, are they tasty!
Saturday morning's tacos were egg, muenster cheese, ham, jalapeno, cilantro, chipotle tabasco and fresh tomato. Very, very tasty, and I had nearly the same thing on Sunday, except I also added some julienne fresh spinach to the egg mixture while it was cooking. Also yum.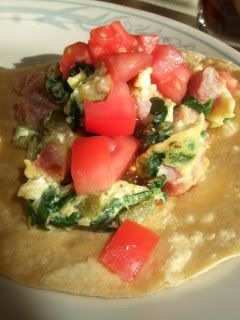 When we went out Saturday night I had tacos del carbon too - one steak, one chicken, both with a cilantro/onion/lime salsa that was just plain yum. Tonight we had fish for supper, and I put mine into corn tortillas with cilantro, shredded radish, chipotle tabasco and fresh tomatoes. It was pretty good too.
Eventually, I'll either tire of them or run out of corn tortillas, I suppose. How was your weekend? What did you do?
-Laura at TenThingsFarm
Shared at Homestead Barn Hop