Once upon a time, the Sunday before this most recent Christmas, DD had crawled into our bed along with Tallulah, and we were talking about cats. DD knows stories about cats she never knew - the time Hobbes ate a banana, how Winnie loved to sit on the edge of the tub and play with the water while I took a shower, that Sam was quite possibly the friendliest cat, ever. Tallulah, spoiled completely rotten, was soaking up all the attention and love that the three of us were giving her while we reminisced about cats we have known.
That morning at breakfast, Hubby was reading the humane society feature in the paper and said, 'It's Meowy Catmas. All cat adoptions are free today.' DD
zipped
out of the room, and returned mere moments later, fully dressed and with her teeth brushed. 'Let's
go
! Let's go before all the kitties are taken!' Oh, but she is her mama's daughter.
It can't hurt to just go look, right? And besides, last week when I went to stock up on cat litter, they were out of the super cheap scoopable stuff, and so I spent a little more and stocked up on the 'multiple cats' variety. (It's only 45 cents more for the 28 pound box). And what about all that cat food I got such a great deal on with coupons at PetSmart? We'll just look...no guarantees.
And if we're going to get a 'free' cat, we should try to get one that is already spayed and declawed. We'll limit it that way too. Deal?
Deal.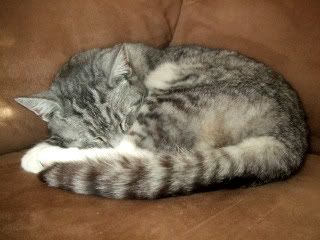 This is Holly. (please imagine little hearts fluttering about all around her name - thank you)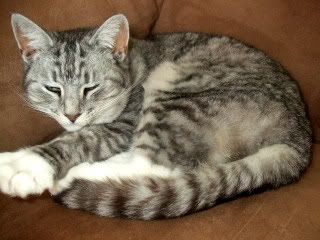 We named her that because she's a Christmas Kitty. And yes, she's spayed...and front declawed.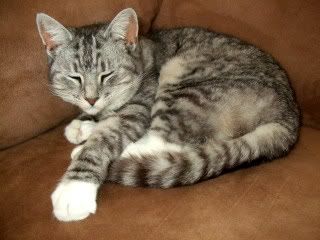 And microchipped! She purrs almost all the time, and she likes to cuddle...and sleep.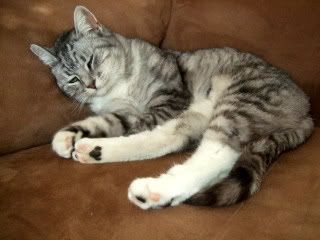 Between sleeps, she enjoys napping...cuddling...and bossing Tallulah around. As you can see by her paw pads, she is descended from royalty. (Any cat that has any spot of black on its paw pads is descended from royalty. It's true, because I read it in a book when I was a kid!)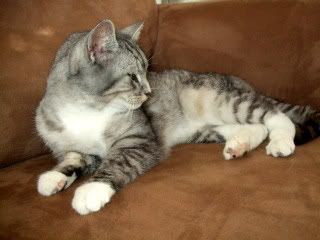 Oh, wait - is she getting up? Maybe she wants to play!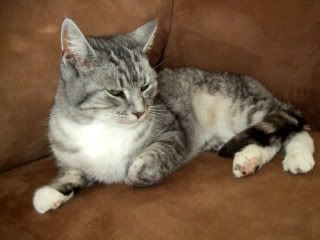 Playing is a lot of fun, after all.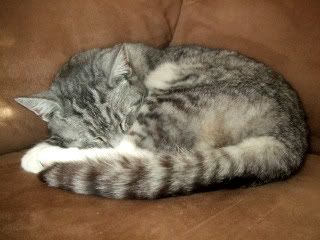 Maybe after her nap....
Meowy Catmas, everyone!
-Laura at TenThingsFarm