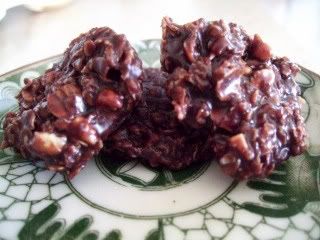 I've heard these called chocolate oatmeal cookies, no bake cookies, Suzy No-Bakes, and stove-top oatmeal cookies. To me, they will always be Lunchroom Cookies, because we always had them at school when I was growing up.
They are ridiculously easy to make, and you don't have a lot of dishes to wash when you're finished, which is a nice bonus. If you're out of eggs, no problem - you don't need any for Lunchroom Cookies.
This is the recipe I use. I hope you like it! It is, technically, a 'half recipe', but we are a small family. Feel free to double it if you have many people to share them with. :)
Lunchroom Cookies
1 cup granulated sugar
1/4 cup unsweetened cocoa powder
1/4 cup milk
1/2 stick (4 tablespoons, 1/4 cup) butter or margarine
1/4 cup peanut butter (we prefer chunky for this recipe)
1/2 teaspoon vanilla extract
1 1/2 cups quick or minute oats (if you use old fashioned, you will need about 1/4 cup additional oats)
Instructions:
Combine sugar, cocoa powder, milk and butter or margarine in a medium size saucepan. Bring to a boil, stirring constantly, and boil for 3 minutes. Remove from heat and add peanut butter and vanilla extract; stir to combine. Add oats, stir until combined. Drop by the spoonful (or use a cookie scoop) on waxed paper or a silicone mat and let cool. Remove when cooled for eating; store in an airtight container. Enjoy!