If you homeschool, like we do, this is a fun, virtually free activity with tons of opportunities for learning. It can be simplified or expanded based on your child/children's age and interest level. Don't hesitate to repeat this activity throughout your snowy season, and if you don't have a snowy season, crank up the shave ice maker!

What do you do when your little sweetie is super-excited about the snow, but it's only six degrees outside?
Why, bring the fun indoors!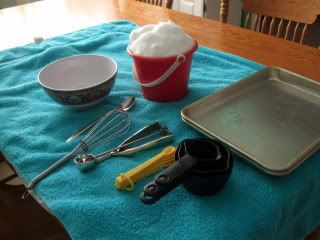 All you need is a plastic bag (to protect the table - it's under the towel), a towel, a few 'cooking utensils' and...gloves!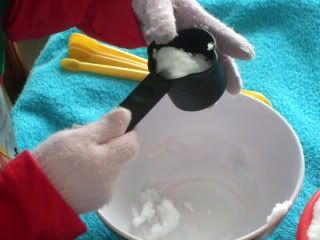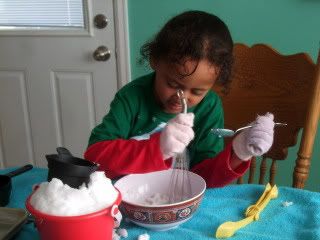 Look at those cute little snow cookies!
Did someone say 'cookies'???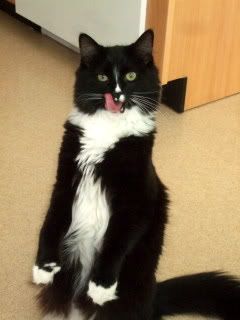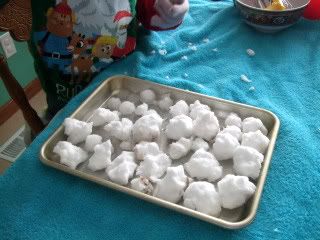 Once we had a pan full of cookies, there was another surprise!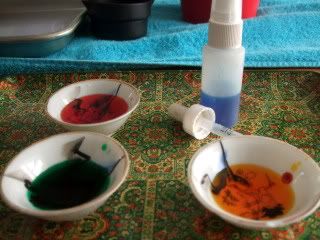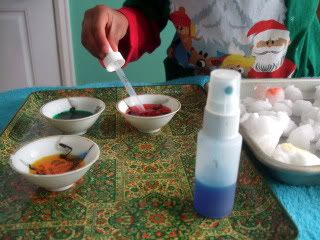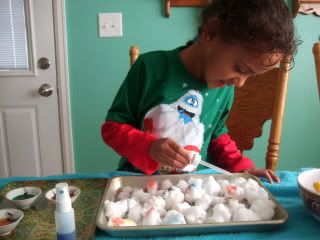 She happily spent about 45 minutes on this activity.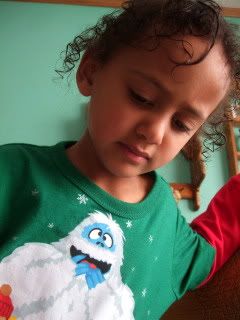 It's fun, but there are lots of learning opportunities too. Problem solving made her decide to get her gloves, and she pretended that the snow was all the different ingredients we put in cookies - butter, sugar, flour, even a snow-egg.
Using an eye-dropper requires one type of fine-motor skill. Using a small spray bottle requires yet another.
And learning color combinations in a book just isn't the same as making your own orange, green, purple and more.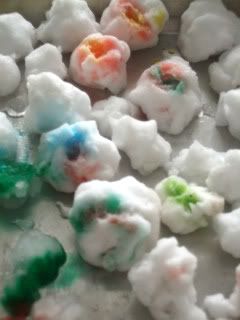 Are they ready yet? Can I have one? Can I? Please, oh please??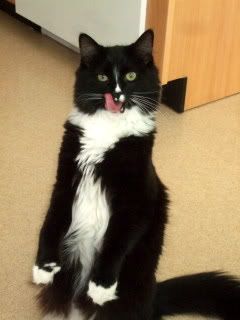 Oh, Lulie....
We did 'pretend eat' some....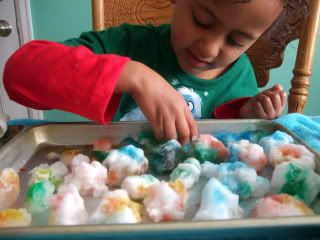 And we observed what happens to snow as it gets a bit warmer. See the wee rivulets of various colors? (We used the word 'rivulets' too - yay for vocabulary!)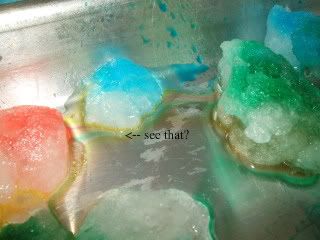 Little Bit wanted to preserve her pretty snow cookies, so we put them outside. The temperature was up to 16 degrees by then, but still plenty cold to keep snow cookies, yes?
Well....no.
When sunshine was absorbed by the aluminum, the warmth of the sun was transferreed - conducted - to the cookies, and they melted. We all learned something today, and we had fun!