This is Bo. He's new!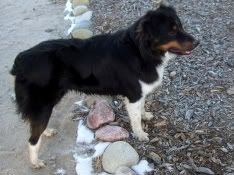 Sometimes he reminds me so much of our border collie, Max, that I almost cry. Okay, I've cried over it a couple of times. Max was a good, good dog. I am not sure of Bo's breed (or blend of breeds), but he is definitely a herding dog...and a sweetie.
He belongs to our neighbor across the road, but any time we step out the door, he is over here in a flash. I'm pretty sure we've been adopted.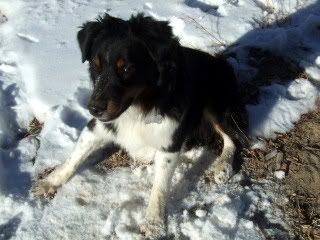 He's a sweet little guy, still a pup, a bit on the noisy side.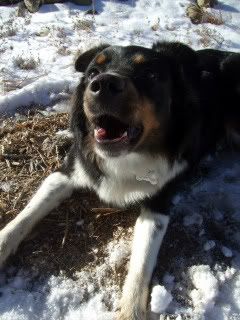 When the Sherriff's Deputy was here about the
Chapstick Bandits
, Bo barked at the Deputy. Sssh, Bo! (The bandits did their dirty deeds on a very cold night, so Bo was indoors, and unable to warn us all of the lurking menace.)
In a lot of ways, this works OK for us right now. Our neighbors know that we're borrowing their dog for these little visits, teaching him to 'sit' (well, working on it anyway), and that he goes with us on our walks. He's good with our chickens and ducks, and friendly with all three of us. He actually will bark if someone comes up (like an egg customer), but it's just a 'someone is here' sort of bark. We have a bit of guard dog without all the big have-a-dog responsibilities and expenses.
You know, when you're heading out to the henhouse in the morning, it's just nice that someone is so happy to see ya. :)