This past weekend, we went to a mochi pounding!
What on earth is that?
Well, mochi is a type of rice. Very, very sticky and glutinous rice. You soak it, you steam it, and then, while it's still hot, you put it in a 'bowl' (I've seen it done in stone and this time, in a wooden stump) and pound it with mallets. Like this!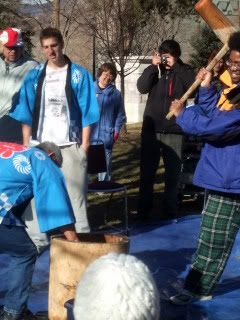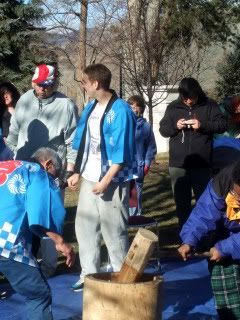 Over, and over and over again. Oh, and you have to keep the bowl and the mallets wet, or the rice will stick to the wood.
Pretty neat! When the grains are all gone, and the entire mass is one smooth, sticky, cohesive 'blob', the mochi is ready. Since this was a demonstration and participation activity, there was only one person pounding at a time, while someone else turns the rice 'blob'. When I've seen it done in Hawaii, there are two guys pounding, and it's just turned every so often.
At this event, anyone who wanted could give it a try. There were different size mallets for different size pounders.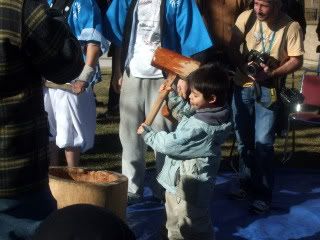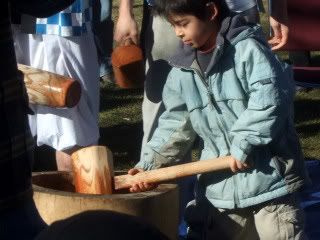 Awww...little cutie! Speaking of little cuties...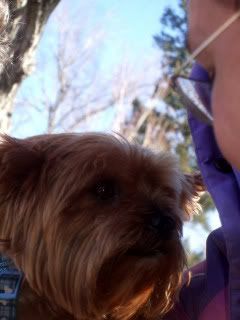 It was a bit windy, also a bit cold, and the line was long, so we went into the building for Little Bit's favorite part - the tasting!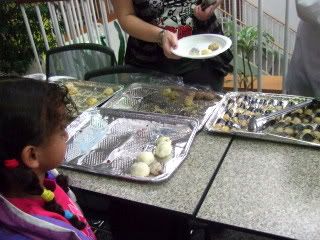 On its own, mochi is a fairly bland food, but that means you can flavor it most any way you like for tasty little treats. Back in Hawaii, we would eat it with a sauce made of ground walnuts, sugar and a bit of water. Very, very good. I've also had it with azuki bean, and that's really good too. On this day we tried several that we'd never tasted before.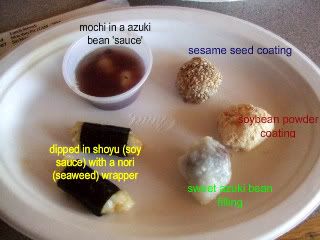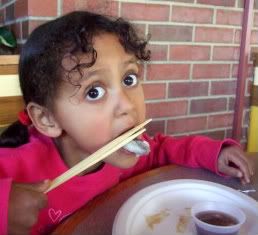 We enjoyed them all (some a little more than others) and look forward to this even next year as well! In the mean time, we may have to try it at home some day.