You probably remember Mr. Morton. He has been with us a very long time, ever since he wandered up from the barn, climbed through a dryer vent we didn't even know about in the trailer, and decided to adopt us.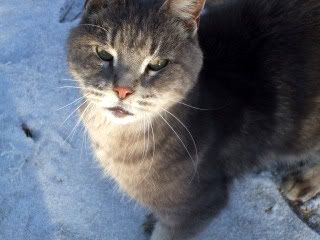 Due to poor choices on his part, he is an outside kitty, except in extreme weather. Sometimes, he tries to convince me that he's sorry, and sometimes, I'm gullible enough to believe him, but those bad choices (leaving me little 'presents' in the basement) get him evicted once again.
He is pretty convincing though, isn't he?
A little after Easter, we lost our minds and set about getting a kitten. Truth be told, it all happened pretty fast. I made a call, we got in the car, and came home with....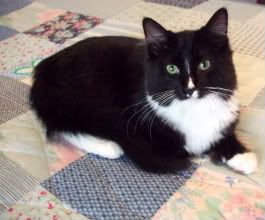 Tallulah Mae. And as if a name like that isn't enough for one cat, Little Bit has nick-named her Baby Purdles.
She is sweet, evil, smart and very, very cute. I'll have to get you a picture of her asking for scraps. (I'll leave you in suspense for now.) She's a fuzzy little thing (well, actually, not so little anymore), and half siamese, so she's talkative. She chirps a lot, and Little Bit has her trained to come when she's called. Multiple bags of cat treats were involved in her 'training', but then again, I don't know too many cats that will do anything on command, so I'm still impressed. I'm also impressed that she has an extra toe on each foot. She didn't really do anything to acheive that, but it's still pretty impressive. (No?)

As endearing as Morton can be (at least for a minute or two) and as adorable as Tallulah (Lulie for short) is until she attacks your foot, my number one most favorite cat is Super Cat.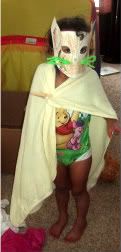 Super Cat's greatness and skills will require a post of their own, but I wanted to include her here, just so you could start to get to know one another.
(Guess what! There are also some Super Cat
comics
!)
More soon,
-Laura at TenThingsFarm