Well, it's a surprise for
y'all
- all three of us have been planning this for a while!
I bet you already know...or think you do!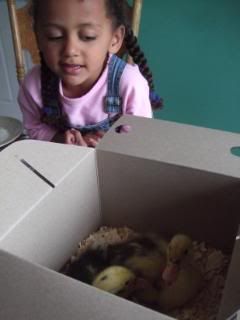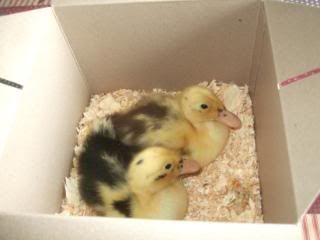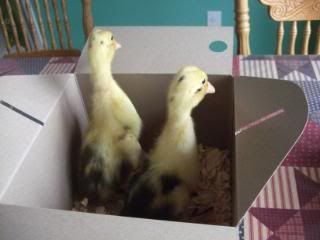 These are Ancona ducklings. We got them today at the feed store. We were looking for another breed, but we weren't having much luck, and these are really cute and sweet. They will grow into speckled ducks - some have white plus one color, and some are tri-colored.
Once upon a time, we had a couple of ducklings in the same pen with our chickens. It was a muddy, mucky mess! This time, we have made a separate pen for them, complete with a wee pond that we got on freecycle. It's not completed yet, but it's too cold for them to be outside anyway. More on that soon.
We think we have a black and white (aptly named Oreo) and a grey and white (Daffodil). They are supposed to be calm, friendly, and good layers. We hope (hope hope hope) we have a duck and a drake, but we won't know for a while. I tried to sex them, but in the end, we just went by cuteness.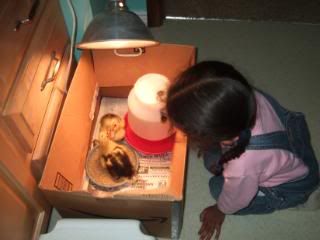 They like the tub. (Don't we all?)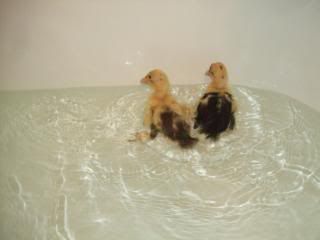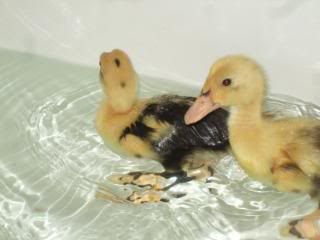 They also like to dry by a nice, warm fire.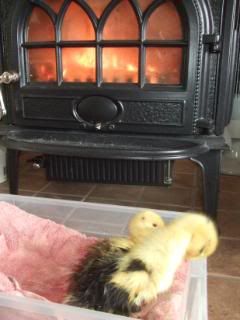 Truth be told, they aren't too crazy about the box with the food and water. They prefer to stay in the living room, closer to us. At one point, the three of us were sitting and the kitchen table. I guess they missed us, because they hopped out of the little 'nest' and waddled right over to see us.
We put them back, before they pooped! (They are very good little poopers.)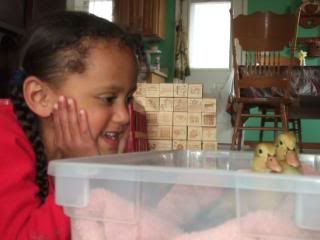 Before bedtime, Little Bit read them some stories and told them a story that she made up. She really loves them. We all do. As I type this, they are sound asleep in the living room nest. It's been a big day.
Precious,
precious,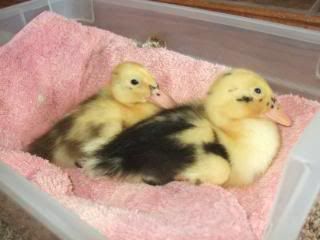 precious!
I said we were looking for a different breed when we brought these little sweeties home. Originally, we planned to get Cayuga ducklings. They are black - so black that in the sunlight, their feathers are beetle-green. They are beautiful, rather quiet, friendly birds. No one has Cayugas available...yet...but we have four on order!
quack quack quack!
-Laura at TenThingsFarm