The other day, Little Bit and I were out running errands. We got done just before lunch time, and she asked if we could stop somewhere and have lunch.
It's tempting, isn't it? For just a few dollars we could stop somewhere and have a little something. Or....
We could go home and eat things that we already have on hand. That would save us a few dollars.
A few dollars, even once a week, add up to quite a few dollars.
Little hands learn how to help. Get the napkins, find the forks.
Choose the dressing. Is this your salad, or mine?
At home, it's not extra for cheese, and you get a pickle too!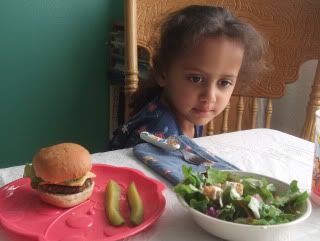 Home-made means I can make mama-and-daddy size hamburgers and buns...and Little Bit sized hamburgers and buns. Cute cute! (and less waste) When I prepare hamburgers, I make enough for several meals and freeze them, so all we had to do was put a Mama burger and a Little Bit burger into the Foreman grill. I make the buns in both sizes too.
Let's eat!