We have had temperatures in the 40's an 50's of late. Because the temps were in the single digits right before that, our 40's and 50's feel like t-shirt weather!
We've been making the most of our outside time. Wood bins re-filled, stuff hauled back to the barn - good times! I opened the door to the chicken run to let everyone out for a bit, too.
Just like cats, they like to sit in the doorway and weigh their options before they decide what to do...
There we go!
No one traveled very far, but the change in scenery did them good. I got two more eggs than I've been getting (yay!).
Little Bit has been enjoying her outside time too. She's kept herself busy watering the (dead, brown) herb garden, gathering up her toys that have blown hither and yon (we live on the prairie, after all), and playing with her Moon Sand.
My best friend - since 8th grade - and her family sent Little Bit three different sets of Moon Sand. About 14 seconds into the first indoor 'experience' Moon Sand was declared an outside toy.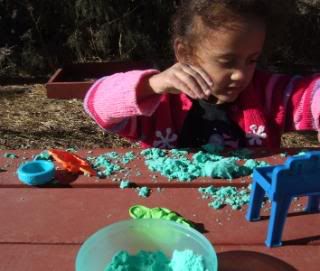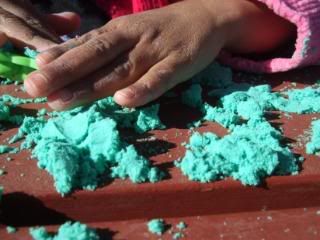 Moon Sand puppies, enjoying a bowl of Moon Sand Bones.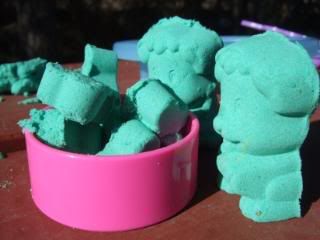 It never dries out, but it is a little crumbly.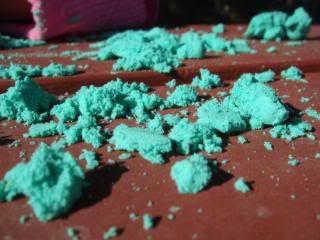 I don't know how long this warm and sunny will last (I don't watch much TV), but we will continue to revel in this beautiful weather. The warm sun midwinter is a blessed, wonderful thing!