These are two very, very different breads, but both turned out great!
If you like artisan breads, and want something that's beyond easy, give this one a try. Here are links to the
recipe
and an
article
. I did the first one with unbleached all purpose flour. The second time I made it I used some fresh-milled hard white wheat, and it was still really good. Next time I think I'm going to try some rye.
A quick video tutorial for your enjoyment:
In the video they toss the dough into an enameled cast iron dutch oven. I don't have one, but I do have a cast iron dutch oven - that worked fine too. I also tried using a large round glass (pyrex) casserole dish with a lid, and that worked equally well. The unusual (and easy) preparation method makes this a fun bread to try, and it's got a great texture.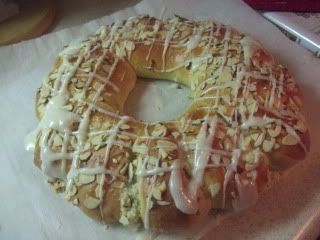 This was our Christmas Morning bread...or coffeecake? I actually got
the recipe
from one of the America's Test Kitchen Books - the 2008 one. In that book there is a typo, and it calls for 1/3 cup of milk instead of
1
1/3 cups milk. I managed to fix it, but it was a bit frustrating. I was glad to find
the recipe online
and make the needed correction. Oh, also - in the book, there was no orange zest in the filling, no orange juice in the glaze - it was strictly almond, and very delicious! I made my own almond paste to cut costs, and it came out just great!
Do you bake? Have a favorite recipe to share? Leave a comment with a link to your favorite recipe (online, on your blog (which would also be online), etc.). Happy baking!