It started with a church sale, where we got Little Bit the
best
Pooh Bear/Tigger snow boots ever, for $2.
When we were paying for them, one of the ladies gave me an info sheet about a group called
Crossfire Ministries
. They do many things in the community. One of those things is a quilting ministry. I called a couple months ago and learned they were skipping December because of all the other things going on, but that they'd start up again in January.
We went on Friday, Little Bit an I. I met some lovely ladies, and she had a morning-long play date with a new friend.
First, there was 'show and tell', where various ladies showed projects they had completed, things they were working on, etc. There were many - this was just one:
How cute is that! The lady who (whoo!) made that one brought in several completed quilts, which she promptly donated. They were labeled like this:
After show-and-tell, it was time to get to work. Some ladies were cutting, some were sewing. I was helping tie some quilts that had already been pieced: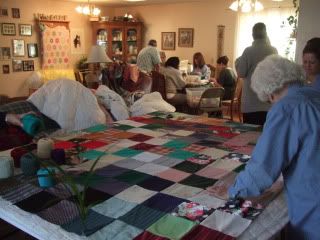 We did three today. First, a backing for the underside of the quilt, then the batting layer. These quilts are given to families who need them to keep warm. Demand is very high, so they use donated sheets for the backing and they repurpose mattress pad tops for the batting.
Next, everything gets adjusted and stretched, then we start tying. We stitched double strands of tying twine through the center of each square.
Clip, tie, trim.
When that one was done, we took a lunch break. Chairs were put around that same table and everyone sat down to eat, talk, get to know one another. There were a few of us that were new to the group, but everyone was so welcoming and friendly that by lunch time, I felt like I already knew people just a little.
We tied one more quilt after lunch. This one is pretty too, isn't it?
There were quilts made from all sorts of fabrics in all sorts of sizes. Finished pieces, works in progress, boxes of 'Does anyone want to take this home and see what they can do with it before our next gathering?' It was amazing, and cool, and fun.
As everyone was leaving, one of the ladies said, "We'll see you in February!"
When we got in the car, Little Bit asked me, 'How long is it until February?'
I'm counting the days until next time too!
I wonder - do they realize how much this ministry goes in both directions? I mean, sure - giving quilts to people is a great thing, but giving people an opportunity to gather and make those quilts? That's pretty amazing too.