Yay, we were allowed to take pictures on the first floor! The second floor - the brand-new NASA art exhibit was view-only, so no pictures of that. It was amazing, so I'm sorry I can't share it with you here. You'll just have to go see it for yourself!
I had told Little Bit that the paintings, sculptures, etc. were for looking, and not for touching. You'll see her in a few of the photos, very consciously not touching them.
This one sparked some discussion about mixing colors without mixing them completely. Little Bit says that next time she paints, she is swirling her colors instead of blending them.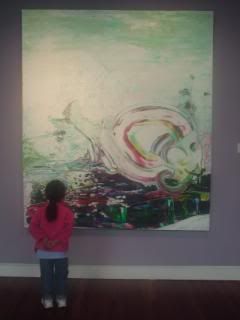 Not touching...
Look at the texture - I wanted to touch it too!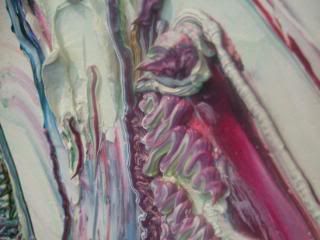 There was a good sized exhibit of Mexican Pottery along with sculptures and paintings by Mexican American artists. Lots of color and movement.
I love her.
We talked a little about movement with this one - I asked Little Bit what she was doing.
"She and her dress are dancing."
Some Dale Chihuly glass:
I think this was one of Little Bit's favorites (mine too!)
And this...this looks a
lot
like my mom.
There was plenty of color!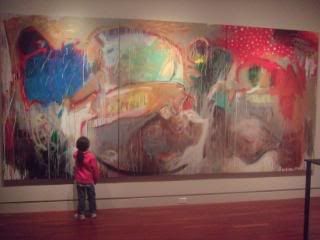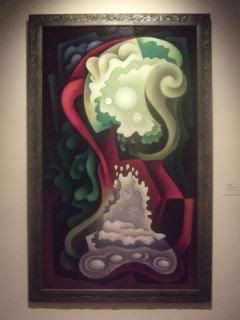 I did something I
never
do, but it's not my fault that the museum gift shop had such beautiful earrings with a gorgeous green background for such a reasonable price. I adore these earrings!
We had a great time. Little Bit got hungry (and therefore whiny) toward the end, but snacks were waiting in the car, so she recovered just fine. We also learned that the FAC does a free day every month! That means we can go and visit a single gallery now and then, without feeling like we have to see everything.
I'm already looking forward to next time. :)