We had a
really
nice Christmas here at Ten Things Farm. It was a relaxed, low-key day...at least once all the presents were opened! Little Bit was pretty excited about that.
I want to show you two things she loves. They are a perfect match.
This was Little Bit's Big (literally) Present this year. It was given to us by a friend whose daughters had outgrown it. I took these photos on Christmas Eve, so it was dark....but my goodness -
look
at it! It was an instant hit, and she really loves it.
She loves the furniture, and the little cats, the doors that open, and the mail slot on the front door. Christmas Morning she made a stack of 'mail' and pushed it through. She's in little kid heaven.
Oh my. I hope those aren't bills!
You know what else....or rather who else she loves? This guy. He was a gift from the family across the road.
She adores him. Do you know why? Because he is signing, "I love you." He is, you know. That's ASL (American Sign Language) for "I Love You." She has never seen any of his movies, books or TV shows, so if you ask her what Spider Man does, he is a super hero/good guy that goes around loving everybody.
"I love you, Man."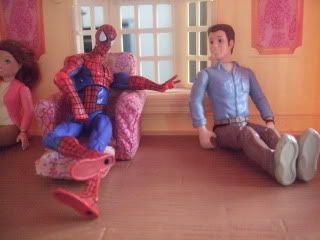 (By the way - she posed him in all these photos, all by herself.)
He fits right in, too. He's the exact scale of the dollhouse people and furniture, so he can sit at the kitchen table, use the computer, relax on the couch or whip up dinner in the kitchen.
He stays pretty busy. There are twin babies in the family, and they sometimes climb up on the roof! Not to worry, Spider Man rescues them. When the kittens get lost, Spider Man finds them. When someone is hungry, Spider Man puts a snack in the microwave. No
wonder
he's tired!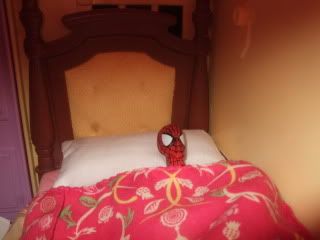 I'm glad to know that Spider Man has a big family. I've always liked him myself, and seeing him nuture children and rescue cats is pretty heartwarming. And just seeing him chillax in this chair, I know he's comfortable with his masculinity, tights and all.