These are "Christmas Slippers" because I made them for my mom and my mother-in-law for Christmas. In reality, they are felted wool granny square slippers, and can be made any time you like.
Before this project, I never once made a granny square. If I can make these slippers, anyone can.
(Please pardon the color changes. The first few photos are the slippers I'm currently making for me - the latter ones are the ones I made as gifts.)
This is, or at least I believe it to be, a granny square. It is made of wool yarn.
For each slipper, you make six of them. I am completely incapable of reading crochet instructions, but I saw the part that said how big the finished granny squares were supposed to be, so I just kept crocheting until I got the right size, then I stopped. I'm all about precision.
You put four of them together (I use a plastic needle and sew them together) like this:
Then you bring up the sides and sew one on top.
(That's a flip flop if you're wondering, more on that later.)
The sixth square goes on the back - the bottom of the photo.
Hopefully that gave you an sense of how they go together. Here, the pair on the left is sewn together. The pair on the right is already felted and finished.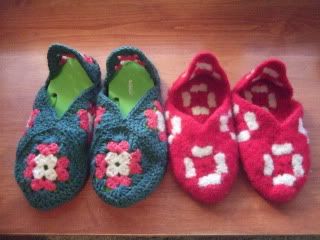 Once the pair of slippers is sewn together, you put a pair of medium-ish child-size slippers in them to help hold the shape. Put the slippers into a pillowcase, rubber band it shut, and then wash them in very hot water in the washing machine. Stop the washer every few minutes and check them, until they are felted to your liking. Felting does wonderful things - it makes them more foot-shaped, thicker and warmer too. I also think it hides some of the imperfections of my newbie granny squares.
The best thing it does is make the slippers fuzzy. Warm, soft and fuzzy - I love that in a slipper. And once I get four more granny squares made, I'll have a pair of my own.
When they are felted to your liking, remove them from the washer, rinse in cold water, and use your hands to shape them nicely. Let them air dry, which may take a few days. Enjoy warm, cuddly goodness on your feet!