Yike
, there were a lot of items free with coupons this week! Apologies, because I don't have my receipts with me, so I am going to slightly 'guess' on prices, but I promise it's within pennies.
Albertson's

- $1.33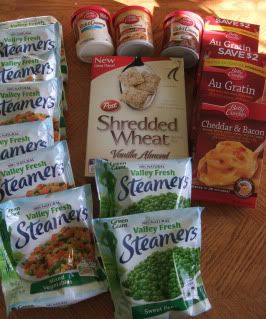 All of that stuff is from
Albertson's
. The cereal was on sale for 1.88. I had a coupon for 55 cents off that did not double, so the box of cereal was $1.33. Everything else was free after sale price and coupon...so in light of that, I chose NOT to ask the cashier to remove the cereal from the order. The coupon was from a store display, sometimes those just don't double.
King

Sooper

- 4.02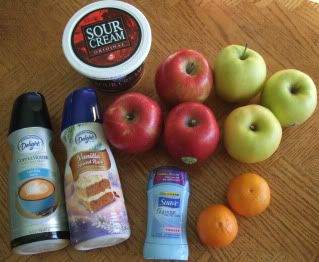 Sour cream was on sale for $1, organic apples were $1/lb, the coffee creamer was free w/coupons. I got the deodorant free (paid the sales tax) and the clementines were free samples - 1 per person (Little Bit was, as always, with me).
I did some shopping at Safeway earlier in the week, but I didn't photograph my stuff. They are running a most excellent promotion on some Kraft items, and Kraft has coupons online for the same items, so I was able to get 2lb. Velveeta for $1.99, 8oz shredded cheese for .99, 8oz. Philly cream cheese (blocks, tubs and flavors) for .49 - woo
hoo
! I stocked up and put a good bit of shredded cheese in the freezer for later. I spent about $19 for a lot of cheese, a big bag of oranges and a few other sale items.
Meanwhile...I was sorting out my coupon file last night and found more coupons for the sale stuff at
Albertsons
. Today I got 3 more bags of Steamers vegetables for free, 4 more of the icing, 2 more boxed potatoes. I also found a grape nuts coupon and got a box for 88 cents. Then, just as I was about to leave, I saw that all the extracts were half price. I have several I'm low on or completely out of, so I got pure almond extract, pure anise extract and a 2 oz. of maple extract. Total for all that stuff was $6.35. I haven't gone home since that trip (I'm helping out at the library, and I have my veggies (and keys!) in the lunchroom freezer.), so I have yet to take a picture.
Better yet...I was able to print some more coupons on one of the public computers before I started my shift. I have two sets from
smartsource
.com and two from coupons.com, so I will either stop in real quick on my way home, or do it Monday, when we're coming into town to finish up (once and for all!...well, for this year, anyway) our Christmas shopping! Also, because of space considerations, I think Little Bit and I will be taking some things to the food pantry. We've been getting so many good deals lately that our home pantry is really, really full.
This kind of shopping might look crazy to some people, but because the sales cycle all the time, it really evens out pretty well. One week you're stocking frozen vegetables and fresh oranges, another week it's toilet paper and whole chickens. Before you know it, you have a great variety of good food for very little money. It really does work!